a.b.e.® Construction Chemicals supplied Polyurea linings and waterproofing for the new Atlantis Q waste pond at the water treatment facility at Witsand, Atlantis, about 40km north of Cape Town on the West Coast.
a.b.e.®, with head office in Boksburg, was formerly part of Chryso Southern Africa which has recently become part of the Saint-Gobain Group. 
Brett Papayanni, Sales Manager General Construction for a.b.e.® in the Western Cape, says the company supplied VIP QuickSpray Industrial Polyurea linings, VIP QuickPrime 2K SF epoxy resin, and dura.rep FC to fill blowholes on the concrete surfaces of the pond which is about 4 m deep, 10 m wide, and 30 m long.
a.b.e.® Construction Chemicals holds an exclusive agreement with VIP (Voelkel Industrie Produkte) in Germany for the SA sale and distribution of the German company's respected range of protective coatings and joint fillers.  Produced in Munich, VIP Polyurea coatings have been internationally hailed as a "new revolution in coating technology" and have set new benchmarks in terms of durability, protection, ease of application, and turnaround times. dura.rep FC is a popular and widely-used a.b.e.® fairing compound.
Papayanni says Prize Roofing of Cape Town, an a.b.e.®-approved VIP Polyurea applicator, applied dura.rep FC fairing compound by steel trowel to the pond's roughly 600 m² concrete surfaces to fill blowholes created by air entrapped on the shuttering. "The entire surface was then coated with VIP QuickPrime 2K SF epoxy primer before a 3 mm coating of VIP QuickSpray Industrial was sprayed onto the internal walls, floor, and over the top of the pond's concrete parapet," he explains.
a.b.e.®'s dura.rep FC is a single component polymer-modified cementitious fairing coating that provides an attractive smooth finish to concrete and masonry. It is generally used either for fairing or to close blowholes prior to applying protective coatings. It can be applied from a featheredge to the 3 mm thickness specified for this project," Papayanni adds.
VIP Polyurea QuickSpray Industrial pure Polyurea coating can be applied to concrete, metal, foam, or other surfaces and within seconds, builds a rubber-like elastic skin that will not before punctures but has excellent resistance to heat distortion and sagging as it maintains its flexibility and shape. The coating, once cured, is also not affected by moisture and copes with fluctuations of temperature with its high elongation and superior tensile strength.
Some of the advantages of VIP Polyurea QuickSpray coating include:
* Extremely fast reaction and curing times – different systems offer between 6 to 90 seconds gel times;
* Exceptional adhesion to concrete, steel, aluminium, plastics, fibreglass, wood, and foam;
* Seamless and jointless flexible coating;
* Capacity to transgress multiple substrates in one application;
* Application in any thickness is possible in a single application;
* Strong sound insulation;
* Resistance to ultra-violet radiation, salt water, and aggressive atmospheric conditions; and
* Coverage of large areas at a rapid rate.
VIP QuickPrime is a two-component modified epoxy resin for the priming of a variety of surfaces. The Atlantis Q waste pond was used as a moisture blocking primer on the still-damp concrete surfaces. "The primer, which is VOC free, provides excellent adhesion and prevents capillary activated creation of pores on the concrete surfaces. a.b.e.® is providing a 10-year material warranty on the VIP Polyurea products used at Atlantis," Papayanni states.
The main contractor for the construction of the new pond, completed in March this year, was Civils 2000.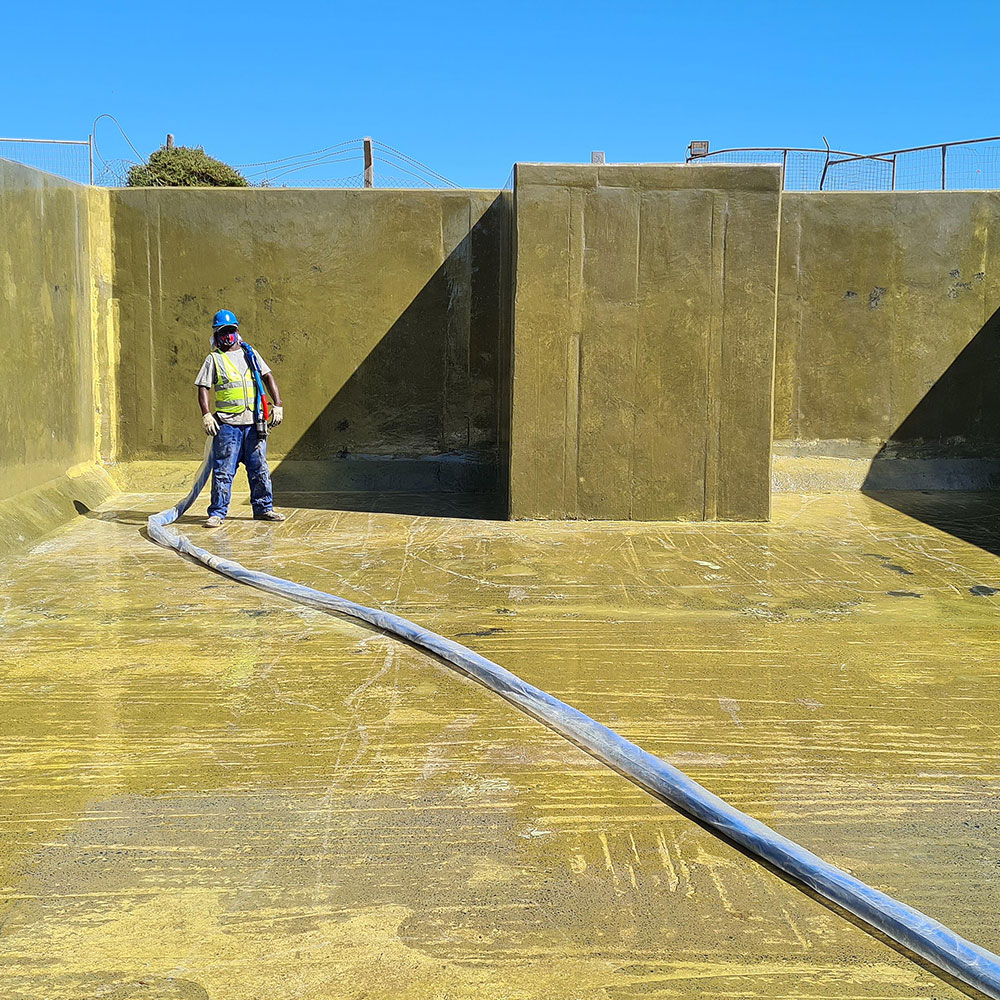 After dura.rep FC application
After completion of polyurea spray