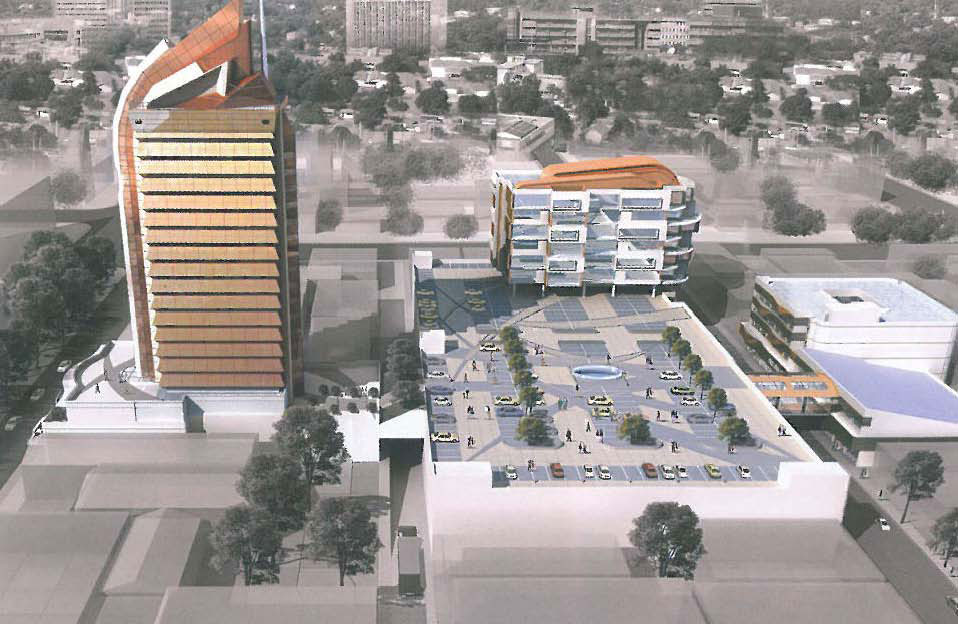 Dow Corning structural glazing sealants, distributed in South Africa by a.b.e.® Construction Chemicals, were chosen by applicator, Preplan, as preferred products to be used on the facades of one of the most notable Zambian building projects in recent years: the refurbishment of Lusaka's Society House
a.b.e.® Construction Chemicals is part of the Chryso Southern Africa Group.
Samantha Ferreira, Product Brand Manager for Silicones, Sealants and Specialist Adhesives at a.b.e.®, says the fire-damaged 20-storey Society House – for years an iconic high-rise structure in the Zambian capital  – is being reconstructed to feature a 4-star, 160-room Holiday Inn with conference facilities, a shopping mall, A-grade offices, and 1 100 car parking garage.
A South African consortium of architects Louis Karol, quantity surveyors Turner & Townsend, property agents Pam Golding Properties, and electro-mechanical engineers BWK Monamodi; together with a Zambian consortium are handling the R680 million refurbishment of the Lusaka landmark which was gutted by fire in the 1990s.
Dow Corning's Quality Bond Technical Distributor, a.b.e.® Construction Chemicals, is supplying its Approved Quality Bond applicator, Preplan, with four Dow Corning products for the structurally glazed facades of Society House:
DC 993 is a two-component, neutral curing silicone formulation specifically developed for the structural bonding of glass, metal and other building components. It has an exceptionally high level of mechanical properties and can be used in impact-resistant window systems. DC 993, available in black and white, allows for maximum energy efficiency in construction as it provides total vision glass without thermal bridges, and is resistant to ozone and UV radiation. DC 895 is a one-part, moisture-cured structural silicone formulation.
DC 813C is a low modulus sealant particularly suitable for weather seals, expansion and perimeter joints in buildings (both internally and externally). It offers durable adhesion to porous and non-porous surfaces such as concrete, masonry, brick, PVC-U, wood and glazed surfaces. It also resists ozone and UV radiation as well as extreme temperatures and can cope with joint movements of up to 50% of neutral joint width.
Ferreira says the reputation of Dow Corning silicone sealants, already for many decades the top quality standard for structural glazing, has been further enhanced by the company's Quality Bond proven applicator programme which offers specifiers  and developers added peace of mind.
Dow Corning sealants have been supplied by a.b.e.® for diverse structural glazing applications including towering skyscrapers such as the Bank of Mauritius in Port Louis, 15 Alice Lane Towers in Sandton, ICC in Durban, Protea Place office tower in Sandton, and the Vodaworld staircase in Midrand. More recently, Dow Corning sealants have also been specified for Portside which – at 139m – will on completion be the tallest office block in the Cape Town CBD; and a new Allan Gray high-rise development on the Cape Town Foreshore. Preplan has also chosen Dow Corning products for the facades of the new high-rise headquarters for the Reserve Bank of Mozambique.
"Apart from its proven track record, the growing popularity of the structural silicone sealants can also be linked to the Quality Bond Programme introduced by Dow Corning. With inadequate application, even the finest sealants can fail but now specifiers and developers are assured that Dow Corning sealants applied by Quality Bond applicators meet the company's most stringent rules of compliance.
"Quality Bond guarantees that the level of the workmanship and application will meet the most demanding requirements for safety and durability. Quality Bond applicators, furthermore, have to be audited annually to have their certification renewed," Ferreira states.
Dow Corning also markets and promotes the services of Quality Bond members among specifiers worldwide and offers its respected technical expertise to ensure that projects are carried out according to the company's strict quality control system. Laboratory testing on substrates to check adhesion, compatibility and staining enable Dow Corning to make formal recommendations for the product selection and use.
"The provision of blueprint reviews, design calculations for structural and weathersealing joints, project audits, training and the 'Level Three' warranty all contribute to the total peace of mind package now offered to specifiers," Ferreira adds.
a.b.e.® Construction Chemicals  is the sole Southern African technical distributor for the Dow Corning range of structural glazing sealants, insulating glass units, instant glaze (hot melt silicone), and sealants for expansion joints on highways, airport aprons and bridges. The latter have, for example, been used on national highways and Gautrain viaducts.
Dow Corning's self-levelling silicone joint sealants can be used in conjunction with a.b.e.®'s renowned flooring and concrete repair systems, and have successfully been applied on major airport runways.  INSTALLATIONS
Issued for a.b.e.® Construction Chemicals, Boksburg / Further info: Kirsten Kelly, tel 011 395 9700