A durable single-pack water based PU floor paint for interior/exterior concrete surfaces with clear gloss or clear matt finish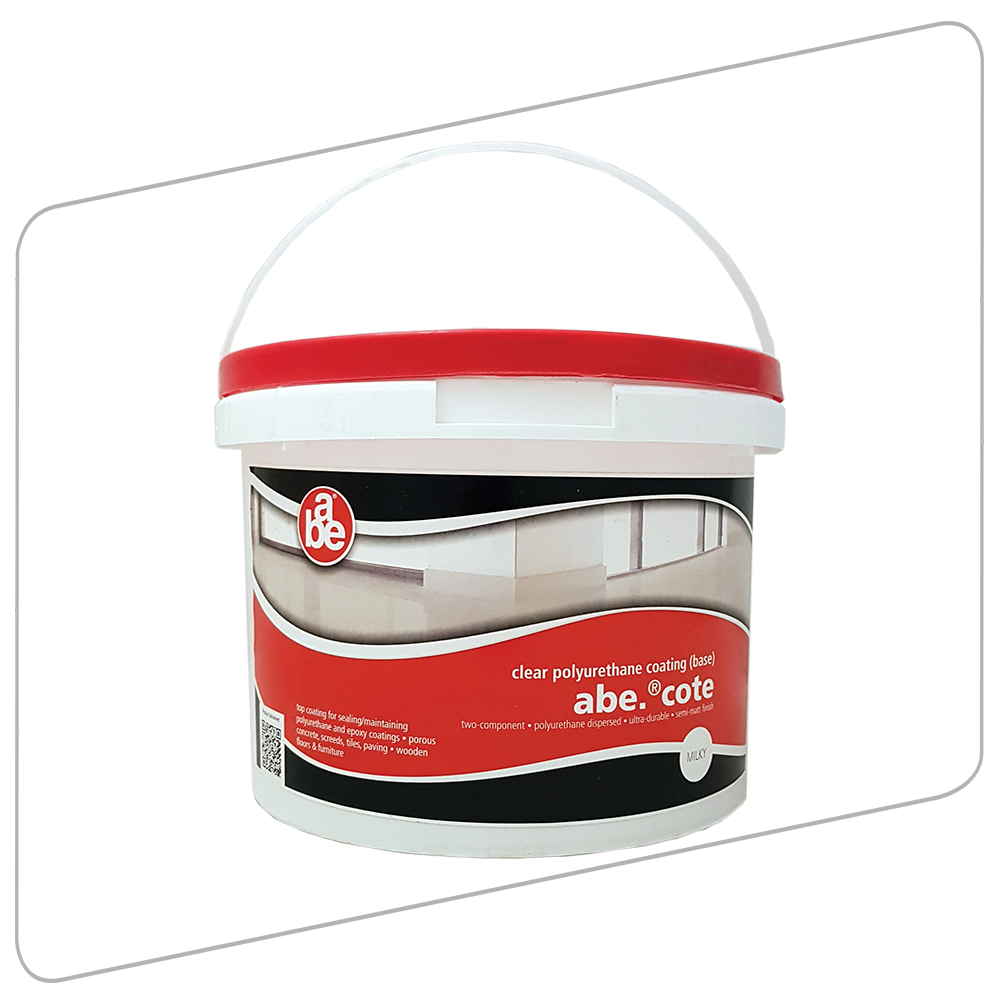 abecote® tough PU paint is a high quality single component waterborne PU floor paint for interior and exterior concrete surfaces.
Uses:
abecote® tough PU paint is a durable, hardwearing and fashionable coating, for domestic concrete surfaces such as floors, patios and garages including light industrial applications.
NOTE: Not to be used in areas where rising dampness has not been prevented since this will result in coating delamination.
Advantages
Environmentally and user friendly
Easy to use, water based satin finish
Easy cleaning – good stain resistance to coffee, shoe polish and mustard
Single component – easy, no-mix formula
Excellent scratch, scuff and wear resistance
Chemical and stain resistant
Resists hot tyre pick-up
UV and weather resistant – colourfast and non-yellowing
Properties of Wet Material
Download technical datasheet.
Properties During Application
Download technical datasheet.
Properties of Dry Film
Download technical datasheet.
Properties of Dry Film
Download technical datasheet.
Surface Preparation
The substrate must be firm, dry, and free from dust and grease. If necessary, employ mechanical cleaning methods and equipment.
It is advisable to check bonding on unfamiliar surfaces. Older coatings must be sanded.
Precautionary Note
(1) The substrate must be dry before application. For concrete, moisture content tests must be conducted prior to application of the priming system.
Moisture content check (preferably a protimeter survey master or equivalent, or dynamic calcium chloride moisture "weight gain" over 24 hours, or at least a practical overnight "plastic sheet test" is also advisable (approximately 1 m² masked down on surface).
(2) Concrete substrate must have a minimum tensile strength of 1.5 N/mm². Concrete shall be free of all laitance and preferably should be lightly vacuum blast cleaned leaving a uniform texture. All blemishes in the surface such as pop-outs, omegas, blowholes and honeycomb should be patched with epidermix® 201. This should be left overnight to cure and shall then be rendered smooth.
For a smooth final finish, the surface profile, peak to valley, should not exceed 25% of the coating thickness.
Bonding/Priming
Apply 10% diluted abecote® tough PU paint as a prime coat.
Mixing
To ensure good mixing, mechanical mixing equipment should be used (below 400 r.p.m) and avoid air incorporation (Jiffy type stirrer is ideal).
Application
After mixing, apply with a virgin mohair roller thinly and evenly. Opened containers must be closed immediately to prevent evaporation and skin forming. It is advisable to use opened containers as quickly as is possible and completely.
Note:
Don't dilute with solvents.
Pinholes can lead to a loss of adhesion, e.g. areas subjected to water ponding.
Applications thicker than 145 μm WFT is not recommended.
Extended applications should be worked within 8 – 10 minutes at the latest, otherwise tracks may be visible.
Coverage
Download technical datasheet.
Cleaning of Equipment
Use water immediately after use. For dried material, use abe® super brush cleaner before full drying takes place.
Protection on Completion
Protect the surface against traffic and spillage until cured.
Model Specification
One component water borne top coating. The coating will be abecote® tough PU paint, a single pack water borne sheen coating applied in accordance with a.b.e.® recommendations, including necessary primers as directed.
Packaging
abecote® tough PU paint is supplied in 5 L yield containers.
clear gloss: 03582-005
clear satin: 03583-005
Handling & Storage
At least 12 months in original, unopened containers. Store in cool (+5 °C up to +20 °C) and dry conditions. Not frost resistant.
Health & Safety
Product safety information required for safe use is not included. Before handling, read product and safety data sheets and container labels for
safe use, physical and health hazard information. The safety data sheet is available from your local a.b.e.® sales representative.
Important Note
This data sheet is issued as a guide to the use of the product(s) concerned. Whilst a.b.e.®  endeavours to ensure that any advice, recommendation,
specification or information is accurate and correct, the company cannot accept any liability for application – because a.b.e.®  has no direct or
continuous control over where and how a.b.e.®  products are applied.
Further Information
Where other products are to be used in conjunction with this material, the relevant technical data sheets should be consulted to determine total
requirements.
a.b.e.® has a wealth of technical and practical experience built up over the years in the company's pursuit of excellence in building and construction
technology.