Under tile self-adhesive intermediate waterproofing membrane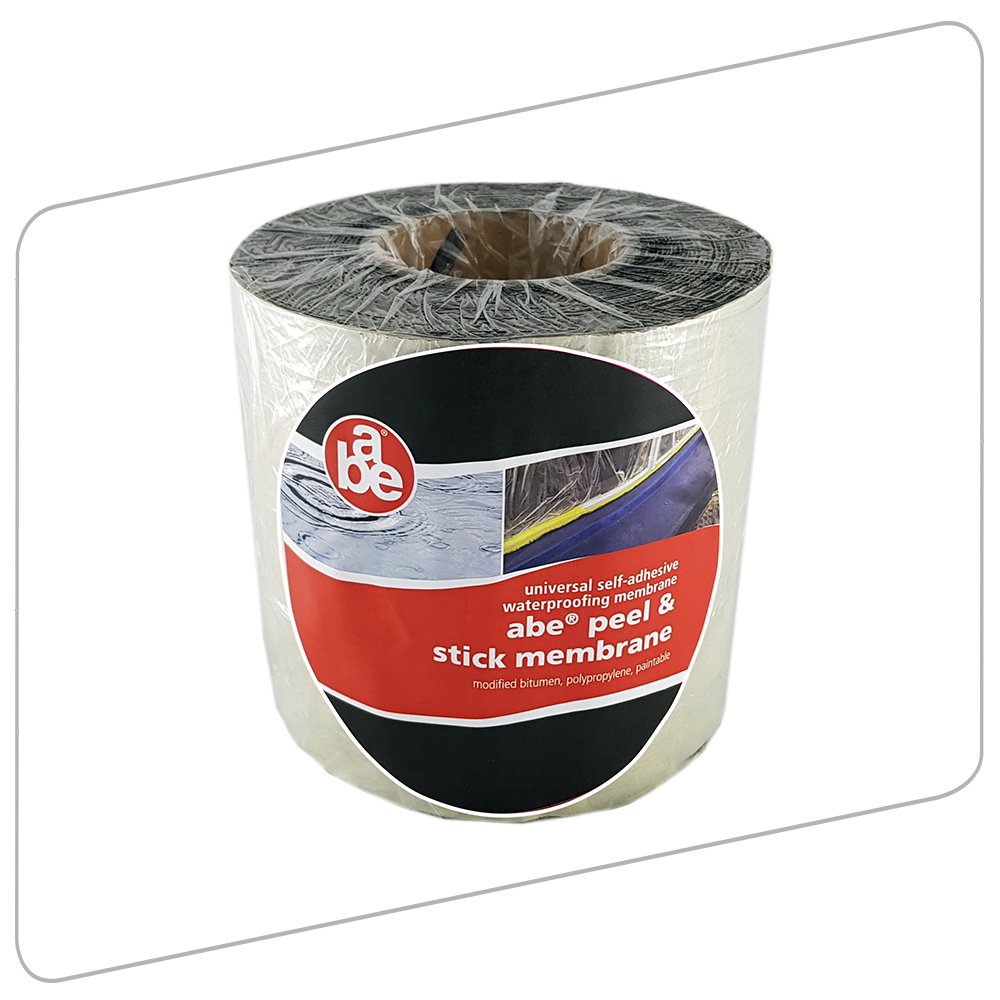 abe® peel & stick membrane is a under tile, self-adhesive waterproofing membrane comprising of a unique ethylene polymer modified bitumen. An exposed spunbond, non-woven, polypropylene fabric has been incorporated in this product rendering the product resistant to alkali solutions and further allowing the use of both cementitious and acrylic systems if required without degrading the membrane.
Uses
Low thresholds that will not accommodate multi-layer built up systems to receive tiles
Waterproofing floor areas of patio's, balconies, wet areas in kitchens, bathroom and showers to receive tile adhesive and tiling
Advantages
Highly flexible membrane
Easy to apply no special equipment required, just measure, cut, peel and stick
Absorbs limited movement
Excellent adhesion to most primed substrates
Quick turnaround time
Typical Performance Values
Appearance
Black with exposed blue polypropylene membrane
Nominal weight of fibre fabric
100 g/m2
Adhesion to wood
1.3 MPa
Adhesion to concrete/screed/ceramic
1.4 MPa
Adhesion to torchon membrane
1.3 MPa
Nominal thickness of bitumen
1.93 mm
Nominal thickness
2.03 mm
Nominal weight per m2
2.15 kg/m2
Resistance to water and vapour
transmission
Excellent
Bitumen compound complies with SANS 4001 BT1:2014 edition 1.2
Surface Preparation
The surface needs to be clean, sound, dust free, dry and free of, grease, oils, laitance, friable matter, algae and contaminants that may impair the bonding properties of the membrane.
All surface must be smooth and without sharp protrusions that may puncture the membrane, in the case of concrete, screeds or mortars a minimum of a fine wood float finish is required.
Allow abe® peel & stick membrane to warm in the sun before application, this softens the product and allows ease of application and improves the bonding properties. The use of the heat gun will also assist, use a low to medium heat, high heat may be too aggressive.
Priming
Prior to the application of the priming system, an electronic moisture content test must be conducted with a maximum 7% result. Prime all prepared surfaces using bituprime and allow it to dry for approximately 10 – 20 minutes. Depending upon surface texture and porosity, 2 coats may be required. It is recommended that all surfaces are primed to enhance adhesion.
Application
The abe® peel & stick membrane release paper should only be removed just prior to application.
Where required ensure all inside and outside corner detailing is completed first.
Carefully apply the membrane whilst you remove the release paper and by hand firmly press the abe®peel & stick membrane onto the prepared primed surface ensuring that there are no creases or air bubbles present and that it is fully bonded to the substrate.
Side and end laps are to be a minimum of 50 mm for 150 mm and 300 mm wide rolls. For 600 mm wide rolls, side laps are to be a minimum of 50 mm and end laps 100 mm.
Note: Should colder ambient temperatures be experience then gently warm up the the membrane with a suitable hot air gun, this will improve the flexibility of the membrane to assist in placement thereof and also increase the tackiness of the membrane that is reduced by the low temperature.
DETAILING GUIDE
Internal Corner (see images on datasheet)
External Corner (see images on datasheet)
Cleaning
Clean equipment with abe®super brush cleaner followed by soap and water. Ensure all soap has been rinsed off with clean water.
Model Specification
abe® peel & stick membrane self-adhesive bitumen membrane embedded with spunbond non-woven polypropylene fabric for waterproofing under tiles for balconies, showers and wet room areas.  Primer: bituprime.
Packaging
abe® peel & stick membrane supplied in:
Roll 10 m X 150 mm (code: 06792118)
Roll 10 m X 300 mm (code: 06792247)
Roll 10 m X 600 mm (code: 14814001)
Handling And Storage
Always ensure that the correct personal protective equipment is used, goggles, gloves and appropriate clothing.
Sealed unused containers should be stored in a cool dry environment below 25 °C.
abe® peel & stick membrane has a 6 month shelf life in unopened containers stored in dry cool conditions (20-25 °C).
Health And Safety
When applying bituprime, ensure that appropriate hand and eye protection is used. Always ventilate the working area well during application and drying. Avoid flames in the vicinity. If material is splashed into the eyes wash with clean water and seek medical advice.
abe® peel & stick membrane is inert and harmless.
The safety data sheet is available from your local a.b.e.® sales representative.
Important Note
This data sheet is issued as a guide to the use of the product(s) concerned. Whilst a.b.e.® endeavors to ensure that any advice, recommendation, specification or information is accurate and correct, the company cannot – because a.b.e.® has no direct or continuous control over where and how a.b.e.® products are applied – accept any liability either directly or indirectly arising from the use of a.b.e.® products, whether or not in accordance with any advice, specification, recommendation, or information given by the company.
Further Information
Where other products are to be used in conjunction with this material, the relevant technical data sheets should be consulted to determine total requirements. 
a.b.e.® has a wealth of technical and practical experience built up over years in the company's pursuit of excellence in building and construction technology.