Durable, quick drying, waterpoofing liquid primer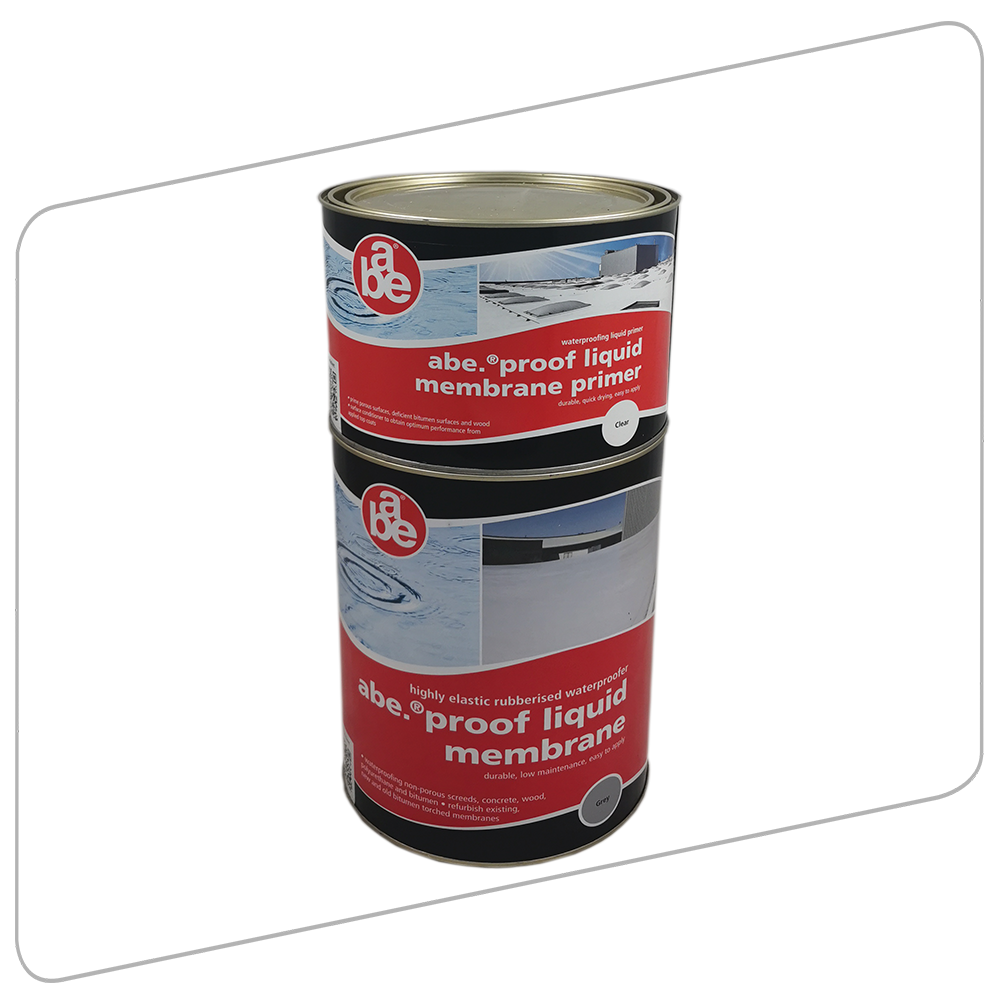 abeproof liquid membrane primer is a single pack, solvent borne, liquid primer applied to most building substrates.
Uses
abeproof liquid membrane primer can be used to prime most building substrates typically:
Porous surfaces, asphalt, deficient bituminous surfaces and wood – prime with

 

abeproof liquid membrane primer
Sound concrete and non-porous screeds – no priming required
A surface conditioner to obtain optimum performance from the products applied as top coats
Advantages
Excellent surface conditioner
Easy to apply, fast curing, quick turn-around
Moisture insensitive, can be applied in cool, warm and humid conditions
Excellent adhesion to most prepared substrates
Surface Preparation
All surfaces are to be clean, sound, dry, free of laitance, grease, all fungal growth and loose flaking particles. This could be achieved by wire brushing or suitable high pressure washing, using clean water to reveal a clean, sound, water break free surface.
Wood:
A solvent wipe using MEK or oil free acetone to remove any natural wood oil prior to application.
Mixing
Slow mixing or thorough stirring using a flat paddle just to re-homogenise the product before application.
Typical Properties
Downlad datasheet for Technical Properties.
Application
Allow the abeproof liquid membrane primer to dry for 45 minutes before applying the abeproof liquid membrane or the abeproof liquid tanking membrane. The product may be applied by brush, short nap roller or airless spray equipment. One coat is required, applied at a rate of 0.154 l/m2.
Protection on Completion
All surfaces require suitable protection from dirt and contamination between coats and until the final coating has fully cured.
Coverage
Approximate coverage: 1 L will cover 6.5 m2.
Model Specification
A durable, liquid primer for abeproof liquid membrane and abeproof liquid tanking membrane.
The primer will be abeproof liquid membrane primer, single pack, solvent borne, liquid applied in two coats at a rate of 6.5 m2/l per coat in accordance with the recommendations of a.b.e.® 
Packaging
abeproof liquid membrane primer is supplied in:
5ℓ (code: 95201005)
20ℓ (code: 95201020)
Cleaning
Tools and mixing equipment should be cleaned immediately after use, and before the material has set with abe.®super brush cleaner, followed by washing with soap and water.
Handling & Storage
abeproof liquid membrane primer has a shelf life of 12 months if kept in a dry, cool store in the original, unopened packs. If stored at high temperatures and/or high humidity conditions, the shelf life may be reduced.
Health & Safety
Suitable protective clothing, gloves, eye protection and respiratory protective equipment should be worn.
Ensure adequate ventilation and do not smoke, use flame or naked lights during application. If material is splashed into the eye, wash with plenty of clean water and seek medical attention.
Important Note
This data sheet is issued as a guide to the use of the product(s) concerned. Whilst a.b.e.® endeavours to ensure that any advice, recommendation, specification or information is accurate and correct, the company cannot accept any liability for application – because a.b.e.® has no direct or continuous control over where and how a.b.e.® products are applied.
Further Information
Where other products are to be used in conjunction with this material, the relevant technical data sheets should be consulted to determine total requirements.
a.b.e.® has a wealth of technical and practical experience built up over the years in the company's pursuit of excellence in building and construction technology.