Concrete Sealer for Cementitious Screeds
abeseal finisol is a water-based concrete sealer that is moisture insensitive (tolerant) and dries clear.
abeseal finisol has a tracing effect that helps to see the treated areas and to optimise the application rate. The white aspect totally disappears when dry.
abeseal finisol improves surface toughness, abrasion and wear resistance (ISO 11-998 and ASTM D24-56).
abeseal finisol does not modify the aspect and the colour of the substrate on which it is applied. It is non-yellowing over time (Accelerated ageing test – NF EN ISO 11-507).
Uses
Sealer:
A seal coat for cementitious screeds,

 

abescreed duraTop

 

and

 

abescreed SLCP
abeseal finisol is designed to protect aesthetic concrete, especially on concrete at early ages (12 to 24 hours after concrete casting). This product is particularly adapted to protect exposed aggregate concrete, on which it can be applied immediately after the wash out of the surface retarder
Decorative concrete, pavers, slabs and street furniture
Precast concrete elements
Pigmented screed sealing and colour enhancing
Can be overcoated with water based systems for demarcation lines
Advantages
Protects the exposed aggregate surfaces
Non-yellowing
Solvent-free system; low odour
Film-forming sealer that reduces stains
Oleophobic and hydrophobic functions, offers protection against oils, water and dust
Increases durability of the surface
Reduces the appearance of efflorescence
Economical sealer
Film forming dries to a clear film
Seals moisture, allows vapour transmission
Water-based makes it safe for users.
Easy to appl
Easy to clean equipment while still wet
Properties of Wet Material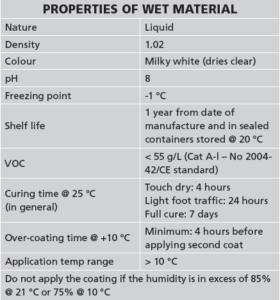 Surface Preparation
Surfaces must be clean, mechanically sound, free of laitance, nibs, dust, curing membrane, grease, oil and any excess water.
Precautions:
Protect the surface from frost
Application
abeseal finisol is ready-to-use and can be applied by brush, roller or spray for both interior and exterior applications.
Sealing
The application rate depends on the porosity of the surface to be treated. The average coverage for is 5 m2/L/coat. A minimum of 2 two coats are required, by the addition of any further coats the surface will tend toward a gloss finish.
abeseal finisol may be applied to a damp substrate that is free of excess water or puddles.
Apply the product in a uniform manner without any rundowns or puddles.
Wait 4 hours before applying a second coat, provided that ambient temperatures are not below 10 °C.
In case of vertical application, the product can be applied on porous and non-greasy substrates. Spraying will be done using airless process (pressure 5 – 6 bar).
In case of over-application, droplets can appear, but after drying, abeseal finisol is perfectly smooth.
Precautions:
In windy conditions the surface needs to be protected against dirt and dust contamination while it is still wet.
Excess water needs to be brushed away to obtain a damp surface.
Do not apply when it is wet or when temperatures are below 10 °C. This should also be respected when drying.
Should the product freeze, it will recover its properties. After thawing, efficient agitation is necessary until product is entirely homogeneous again.
Coverage
Sealing
4 to 6 m2/L/coat, subject to the surface profile and porosity of the surface, a minimum of 2 coats are required.
Cleaning
While the product is still wet wash the tools with clean water.
Packaging
abeseal finisol is supplied in 20 L and 5 L plastic containers.
5ℓ (code: 67105005)
20ℓ (code: 67105020)
Handling & Storage
abeseal finisol has a shelf life of 1 year if kept in a dry, cool store in the original, unopened packs.
Health & Safety
Product safety information required for safe use is not included. Before handling, read product and safety data sheets and container labels for safe use, physical and health hazard information. The safety data sheet is available from your local a.b.e.® sales representative.
Important Note
This data sheet is issued as a guide to the use of the product(s) concerned. Whilst a.b.e.®  endeavours to ensure that any advice, recommendation,
specification or information is accurate and correct, the company cannot accept any liability for application – because a.b.e.®  has no direct or
continuous control over where and how a.b.e.®  products are applied.
Further Information
Where other products are to be used in conjunction with this material, the relevant technical data sheets should be consulted to determine total
requirements.
a.b.e.® has a wealth of technical and practical experience built up over the years in the company's pursuit of excellence in building and construction
technology.