Waterproofing torch-on membrane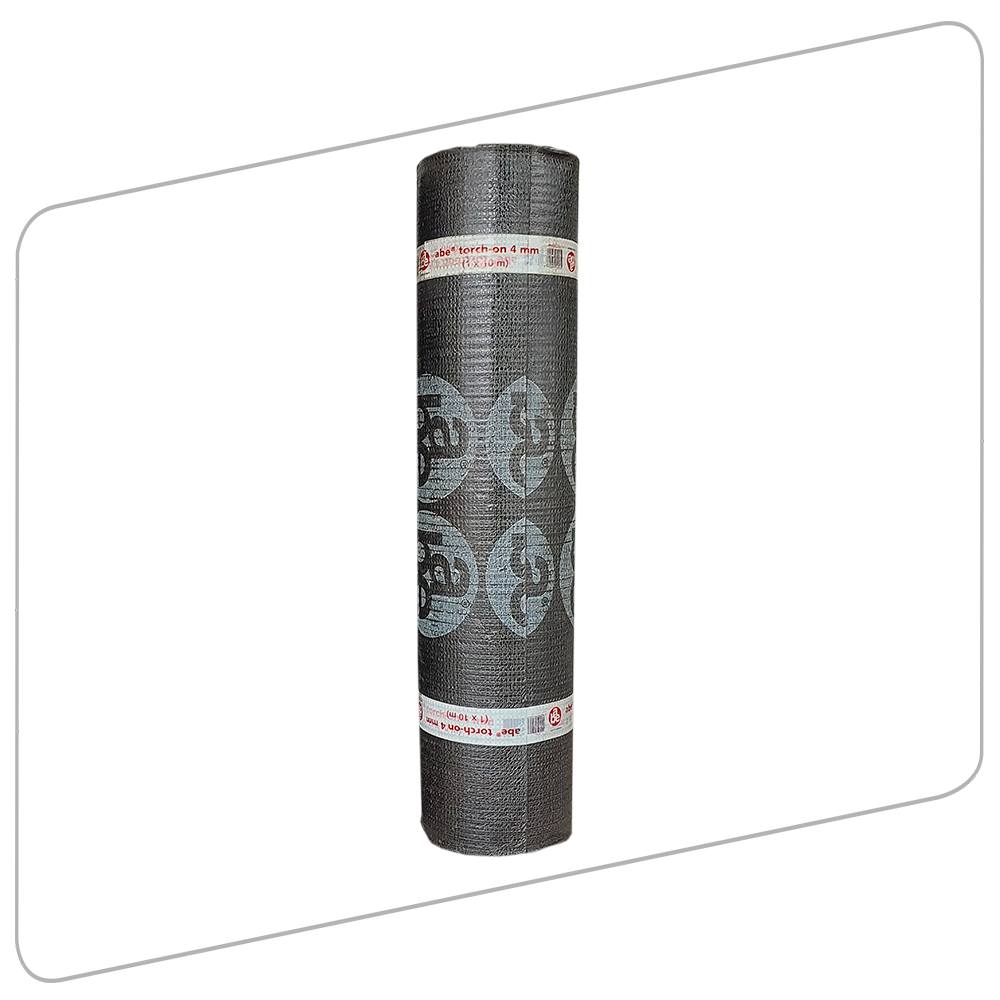 The abe® torch-on 4 mm membrane manufacturing processes uses polymer modified bitumen reinforced with a composite reinforcement. This ensures a good quality membrane that has high elongation and stability across the defined temperature range. Ideal for use in warmer climates.
The upper face of abe® torch-on 4 mm is coated with a uniformly distributed, sand finish which allows the membrane to be unrolled easily during the application.
The underside of the membrane is lined with Flamina, a sacrificial polyethylene film. It is embossed with small squares which assist in the rapid burn-off of the Flamina indicating the correct melting point for adhesion to a substrate ensuring a reliable installation.
Uses
The abe® torch-on 4 mm can be used as a single layer system or as part of a multi-layer in both the refurbishment and new building works market
On all sloping surfaces: flat, vertical and curved
On different types of substrates: site-cast or pre-fabricated concrete substrates, on timber roofing and on the most common thermal insulation used in the building trade
Advantages
Long life expectancy
High elongation strength
Guaranteed water tight
Recyclable
Stable
Shear resistance of joints
Resistance to teading
Puncture resistant
Bonding/Priming
All cementitious surfaces must be primed with bituprime at a rate of approximately 5m2/L. Depending on the porosity of the surface a second coat of primer may be required.
Application Instructions
The most popular installation method is by torch fusion using a suitable propane gas torch.
The membrane needs to be fully bonded by heat fusion to the bituprime primed surface.
The surface needs to be sound clean and dry having no sharp protrusions, providing a surface texture compared with at least a fine wood float finish. The cast concrete surface must be allowed to dry before the sheet is applied. Drying depends on the weather and may take from 8 days to 3 weeks. To protect timber floors from the flame, a sheet of
abe® malthoid 5-ply must be nailed before application of the membrane.
A suitable screed offering adequate falls, a minimum of 1:80, is to be provided to lead the water off to the drainage outlets.
To bond the sheet to the substrate and on the overlaps, use the torch flame to melt the flaming lining on the lower face of the membrane while the membrane is being unrolled. During installation ensure that the side and end laps are 100 mm and 150 mm respectively.
When two layers are applied abe® torch-on installation should be fully torched to the first layer by heat fusion.
The membrane must be laid in a centrally staggered manner with the side and end laps. Ensure that the laps and the membrane are not over heated.
Properties
| | | | | |
| --- | --- | --- | --- | --- |
| Type | Reinforcement | Surface finish | Thickness – weight /m2 | m2 /Pallet |
| 4 mm | Polyester | Sand | 55 kg | 200 |
Dimensional Specifications
DIMENSIONAL SPECIFICATIONS
Length
10 m – 1% (UNI EN 1848-1) – Tex version
Tol. ≥
Width
1 m – 1% (UNI EN 1848-1)
Tol. ≥
Thickness
UNI EN 1849-1
Tol. 0.4 mm
Weight per m2
UNI EN 1849-1
Tol. 10%
Technical Characteristics
Download Technical Datasheet
Coverage
Effective coverage: 8.9 m²/roll.
Cleaning
Tools, brushes and mixing equipment should be cleaned immediately after use and before material has set with abe® super brush cleaner followed by washing with soap and water.
Protection On Completion
Preferably after 2 to 3 months after completion apply two coats of silvakote® to the surface to improve the resistance against UV rays or as recommended by a.b.e.® 
Packaging
Supplied in rolls of 10 m x 1 m.
Caution
This is not a do-it-yourself product, consult an experienced contractor.
Model Specification
Please contact the a.b.e.® technical sales team for a specific project specification (0860 223 773).
Important Note
This data sheet is issued as a guide to the use of the product(s) concerned. Whilst a.b.e.® endeavours to ensure that any advice, recommendation,
specification or information is accurate and correct, the company cannot accept any liability for application – because a.b.e.® has no direct or
continuous control over where and how a.b.e.® products are applied.
Further Information
Where other products are to be used in conjunction with this material, the relevant technical data sheets should be consulted to determine total requirements.
a.b.e.® has a wealth of technical and practical experience built up over years in the company's pursuit of excellence in building and construction technology.