Elastoplastomeric compound (BPP) reinforced in glass clot and polyester glass fabric.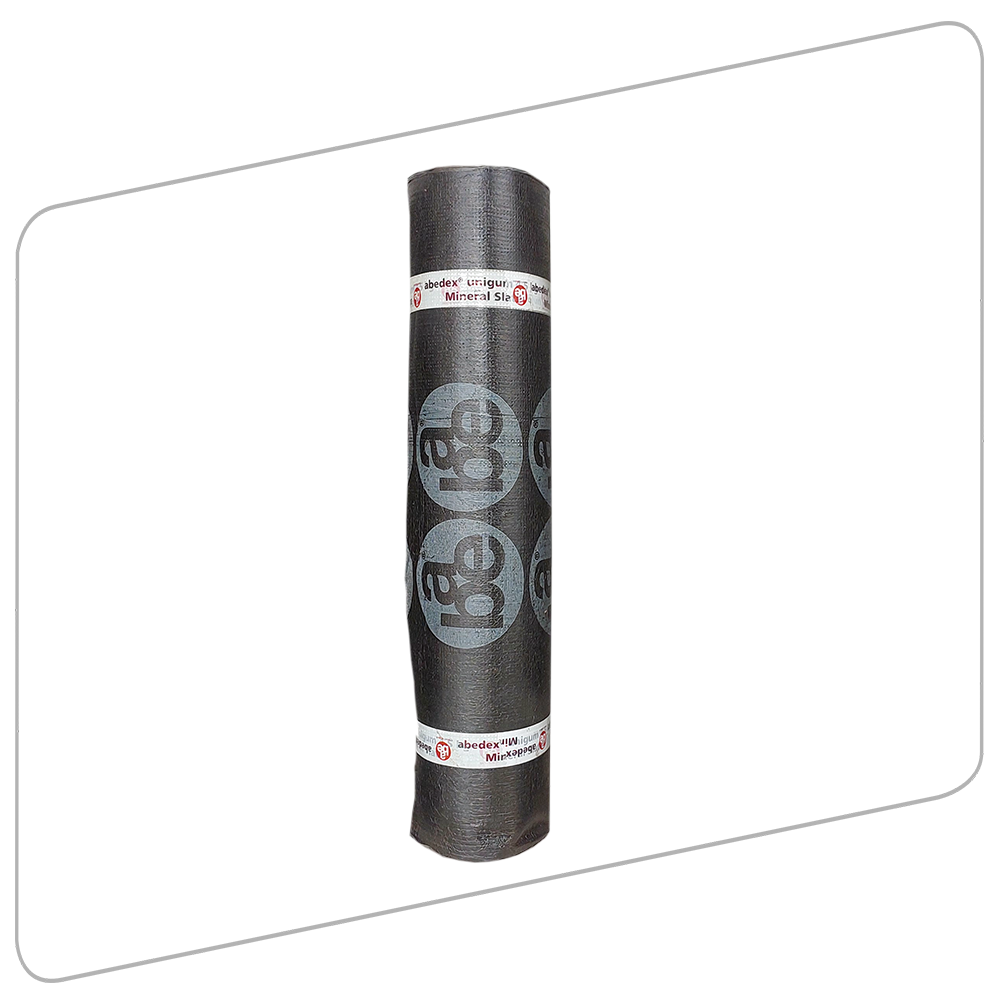 abedex® unigum Dual Reinforced is a robust and stable membrane due to the incorporation of two reinforcement materials; the membrane strength from the polyester and the stability from the fiberglass mat. The upper surface of the membrane receives an evenly distributed sand finish which allows the membrane to be unrolled easily during the installation process. The underside of the membrane receives a sacrificial polyethylene film, Flamina and then the membrane is embossed. The embossing allows for rapid burn off of the polyethylene film when the membrane is being installed by gas torch installation.
Uses
abedex® unigum Dual Reinforced bitumen waterproofing membranes possess excellent ageing resistance and dimensional stability making them suitable for solving the most difficult waterproofing problems on; flat, sloping and pitched roofs, reinforced concrete, prefabricated concrete, masonry cement, metal and timber decks and terraces, with or without thermal insulation and for renovation purposes.
Application
SUBSTRATE PREPARATION
The substrate is to be clean, dry and free of any dust, grease, oils or loose debris. The substrate is to be of a smooth and even condition being free of protrusions or voids
Coves or fillets are to be installed at all internal angles
Screed to falls of 1:80
PRIMING
Apply bituprime primer on substrates to receive membrane
Allow to flash off or dry
APPLICATION/BONDING
Avoid rough handling, especially at low temperatures below 5 °C. Work must be stopped at temperatures below -2 °C.
Our standard application of the membrane requires that the product be fully bonded by heat fusion to the primed substrate by heat fusion.
If a two layer membrane system is to be fitted the upper membrane must be laid with staggered side and end laps.
We recommend side laps to be minimum of 75 mm and end laps to be a minimum of 100 mm.
A round nosed trowel and gas torch to be used when installing the membrane ensure adequate bonding of the laps.
Protection coating or overlay to be determined by a professional with a.b.e.® technical assistance.
Properties
| | | | | | |
| --- | --- | --- | --- | --- | --- |
| Type | Reinforcement | Surface finish | Thickness – weight / m2 | m2 /Pallet | Weight |
| 3 mm | Polyester + Glass | Sand | 3 mm | 250 | 40 kg |
| 4 mm | Polyester + Glass | Sand | 4 mm | 200 | 50 kg |
Dimensional Specifications
DIMENSIONAL SPECIFICATIONS
Length
10 m – 1% (UNI EN 1848-1) – Tex version
Tol. ≥
Width
1 m – 1% (UNI EN 1848-1)
Tol. ≥
Thickness
UNI EN 1849-1
Tol. 0.2 mm
Technical Characteristics
Download Technical Datasheet
Model Specification
Please contact the a.b.e.® technical sales team for a specific project specification (0860 223 773).
Important Note
This data sheet is issued as a guide to the use of the product(s) concerned. Whilst a.b.e.® endeavours to ensure that any advice, recommendation, specification or information is accurate and correct, the company cannot accept any liability for application– because a.b.e.® has no direct or continuous control over where and how a.b.e.® products are applied.
Further Information
Where other products are to be used in conjunction with this material, the relevant technical data sheets should be consulted to determine total requirements.
a.b.e.® has a wealth of technical and practical experience built up over years in the company's pursuit of excellence in building and construction technology.