Non-woven, continuous filament, needle-punched, polyester geotextile
Drainage behind retaining walls
Filtration in subsoil drains
Separation of aggregate on driveways, paths and storage area
Protection of plastic waterproof membranes in garden or structural applications
As a waterproofing membrane when saturated with bitumen
Filter under riprap retaining river banks
Roof gardens/Atriums
Window boxes
Drainage pipe
Underground waste disposal and soak awa
Perimeter subsoil drain
Stabilization of the sub grade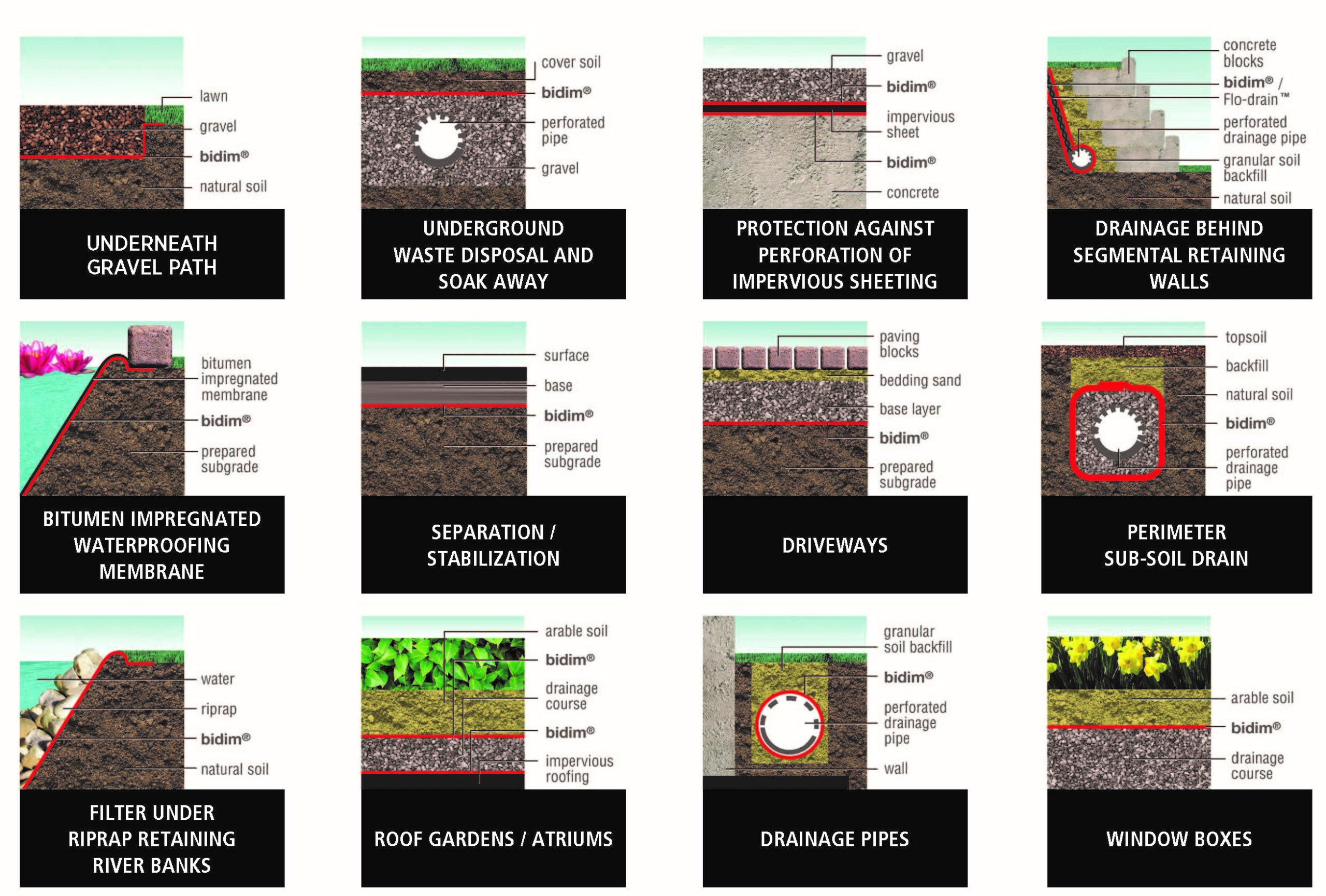 Advantages
High strength
High conformability
Paving: Ensures correct drainage and prevents risk of subsidence
Garden paths: Prevents the natural soil from mixing with the sand or gravel and reduces maintenance
Subsoil drains: Envelops the drain trench and improves the efficiency of the drain by holding back the fine particles of soil
Roof gardens & window boxes: Separates the drainage course from the topsoil and prevents particles entering the outlet system
Mechanical Properties
Download technical datasheet for more specification.
Hydraulic Properties
Download technical datasheet for more specification.
Roll Dimensions
Width
Standard
m
1.32, 1.76, 2.65, 3.53 & 5.3
2.65 & 5.3
Length
Standard
m
150
150
150
150
150
75
75
50
50
The above values include both Typical and Minimum Average Roll Values (MARV) and are determined from the specified tests carried out
by an accredited laboratory.
Surface Preparation
bidim® is a rugged material and can be placed upon most soil or stone surfaces around the home within reason.
Bonding / Priming
No priming required unless specified otherwise (dependent on the a.b.e.® product it gets used with ie. when waterproofing.)
Application
For separation/stabilization, place the bidim® onto p repared subgrade, overlapping the ends by 100 mm where necessary.  Place the base on top of the bidim®.
Packaging
bidim® U14 rolls are available in 1.32 m, 1.76 m and 2.65 m wide.
Handling & Storage
Store under cover until used.
Health & Safety
Product safety information required for safe use is not included.  Before handling, read product and safety data sheets and container labels for safe use, physical and health hazard information.  The safety data sheet is available from your local a.b.e.® branch.
Important Note
This data sheet is issued as a guide to the use of the product(s) concerned. Whilst a.b.e.® endeavours to ensure that any advice, recommendation,
specification or information is accurate and correct, the company cannot accept any liability for application – because a.b.e.® has no direct or
continuous control over where and how a.b.e.® products are applied.
Further Information
Where other products are to be used in conjunction with this material, the relevant technical data sheets should be consulted to determine total requirements.
a.b.e.® has a wealth of technical and practical experience built up over the years in the company's pursuit of excellence in building and construction technology