duracrack filler is a polymer modified cementitious based crack filler that provides superior adhesion, compression and tensile bond strengths including excellent waterproofing properties. The product mixes easily with water to provide a smooth paste consistency and can be applied in incremental layers of 5 mm.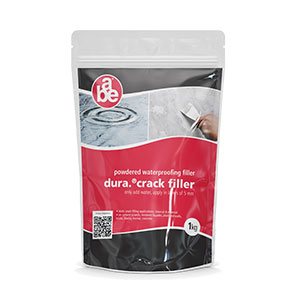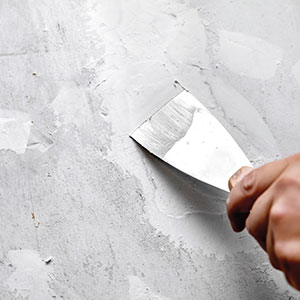 powedered waterproofing filler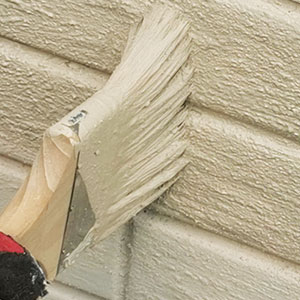 Use with dura.cote decorative waterproofing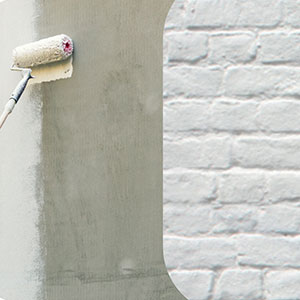 Filler for brick, plaster, mortar, screeds and concrete
Uses
duracrack filler is ideal for all static crack filling applications for both internal and external applications in the following areas:
Screeds
Rendered facades
Plastered walls
Brick and blocks
Mortar
Concrete
Advantages
Excellent waterproofing properties
Does not crack when drilled
High bond and strength properties
Excellent profiling properties
Chloride free
Easily sanded down to a smooth profile
Economical
Can be over painted when dry
Easy to apply only requires the addition of clean water
Surface Preparation
The surface is to be sound, thoroughly cleaned by means of a wire or stiff bristle brush ensuring that it is free of all loose and friable material, paint and foreign matter. The surface must also be free of any algae or efflorescence. Cracks need to be scraped clean ensuring that all dust and loose particles are removed.
Mixing
Add potable water to a clean mixing vessel and whilst stirring using a flat paddle slowly sift the powder into the water, continue mixing until a smooth lump free consistency is obtained.
Mixing ratio:
5 kg duracrack filler to 1.25 litres of water
1 kg duracrack filler to 0.25 litres of water
Application
The surface including the cracks is to be thoroughly dampened, with no free water to remain on the surface, prior to the application of duracrack filler.  Apply the duracrack filler by steel float, trowel, or spatula at 5 mm thick, thicker layers may be applied in sections of 5 mm per layer once the previous layer has dried.
Ensure all cracks, blow holes or imperfections are completely filled and are dry prior to sanding down.
Any mechanical works or drilling may be carried out after 5 hours from application to prevent raveling or chipping of the freshly applied product. In colder weather conditions this time may have to be extended as the curing time will be slower.
Do not re-temper the mix by adding additional water when the workability has been lost, rather discard the mixture and mix a fresh batch.
Use the appropriate primer before applying top coats of paint.
Typical Properties
Form
Free flowing powder
Colour
Off white
Water ingress
0.003 ml/min at 7 days
(Karsten water ingress test)
0.002 ml/min at 28 days
Compressive
strengths
(MPa)
7.0 (3 days)
12 (7 days)
15 (28 days)
Tensile bond
strengths
(MPa)
1.2 (7 days)
1.4 (28 days)
Fresh wet density
1 955 g/cm3
Protection On Completion
The newly applied duracrack filler must be protected against direct sunlight or wind for at least 24 to obtain the required strength and durability.
Temperature and Relative Humidity
Do not apply duracrack filler if the temperature is below 5°C.
Precautions
duracrack filler must be kept out of reach of children, it may also be an irritant to eyes and skin.
Model Specification
A chloride-free, powdered waterproofing additive for closing of cracks in brick, blocks, concrete, plaster or mortar. The product will be duracrack filler, a chloride-free, cementitious crack filler applied in accordance with the recommendations of a.b.e.®
Packaging
duracrack filler is supplied in 1 kg (22901-001) packs.
Cleaning
duracrack filler has a shelf life of 12 months if kept in a dry, cool store in the original, unopened packs. If stored at high temperatures and/or high humidity conditions, the shelf life may be reduced.
Health and Safety
Avoid inhalation of dust and contact with skin and eyes.
Suitable protective clothing, gloves, eye protection and respiratory protective equipment should be worn. The use of barrier creams provides additional skin protection. If contact with skin occurs, wash with water and soap. Splashes into eyes should be washed immediately with plenty of clean water and medical advice sought. See MSDS for additional information.
Important Note
This data sheet is issued as a guide to the use of the product(s) concerned. Whilst a.b.e.® endeavours to ensure that any advice, recommendation, specification or information is accurate and correct, the company cannot – because a.b.e.® has no direct or continuous control over where and how a.b.e.® products are applied – accept any liability either directly or indirectly arising from the use of a.b.e.® products, whether or not in accordance with any advice, specification, recommendation, or information given by the company.
Further Information
Where other products are to be used in conjunction with this material, the relevant technical data sheets should be consulted to determine total requirements.