Low viscosity crack injection compound.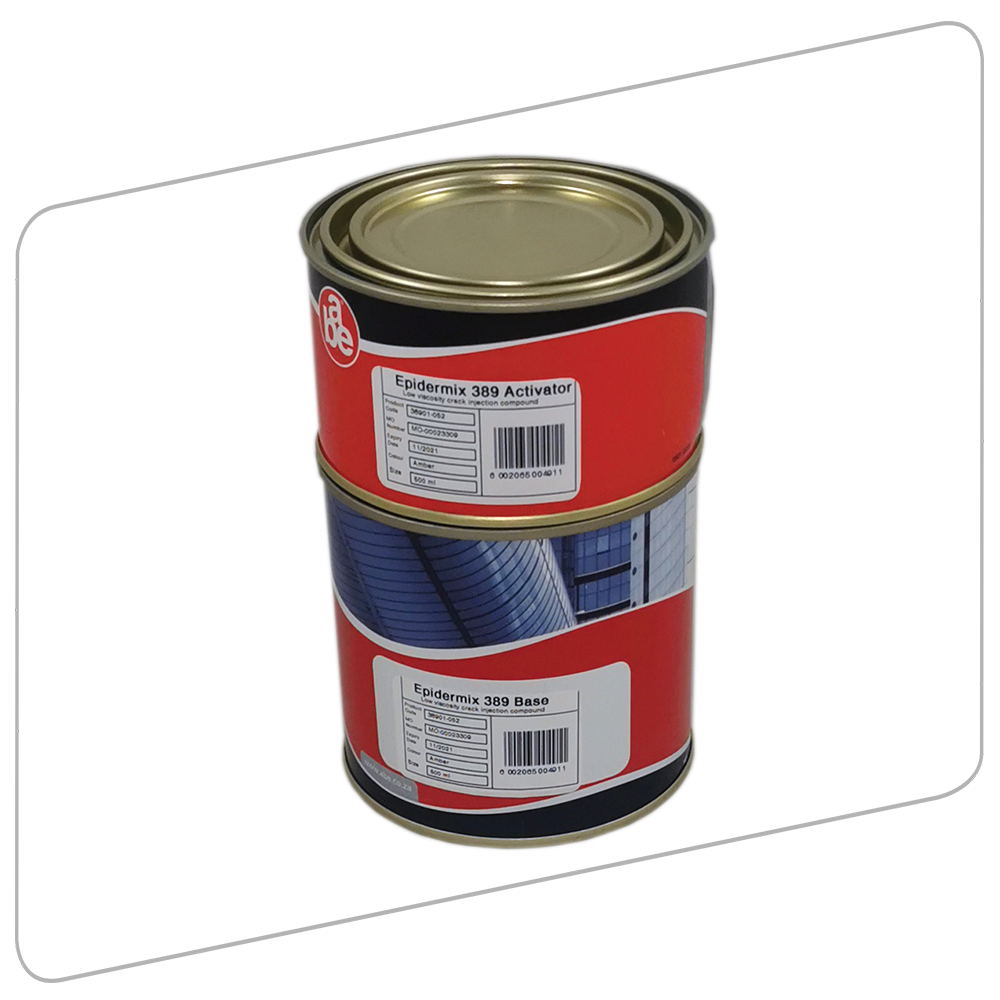 Two component, solvent free, low viscosity modified epoxy.
Uses:
A crack injection compound for cracks between 0.10 and 0.05 mm in width. It is also suitable for gravity feed applications subject to crack width and depth, for better penetration consider the injection process. May also be used as primer for epoxy mortars and electrical encapsulation.
Advantages
Stabilizes cracks in concrete
Insulates and tamper proofs electrical fittings
See properties of dry film
Surface Preparation
Concrete should be clean and dry. Surfaces should be sound enough to provide sufficient strength for bonding of injection nipples and surface seal.
Mixing
Add the entire contents of the activator can to the base material. Stir for five minutes using a flat paddle. If only a small quantity is required, pre-stir the contents of each container using separate flat paddles. Pour two volumes of base component and one volume of activator into a separate, clean container. Mix together for five minutes using a flat paddle.
Coverage
Primer: 1 ℓ/m2/1 mm thick
Crack: estimation of cavity volume is necessary
Properties of Wet Material
Mixing ratios
2:1 by volume
Density (typical)
1.12 g/cm³
Colour:
Base: Light amber liquid
Activator: Brown liquid
Flash point
 + 120 °C
Dilution
Do not dilute
Consistency
Very low viscosity
Toxicity
Uncured material is toxic
Shelf life
2 years from date of manufacture
Finish
Gloss
Storage conditions
Under cover in cool conditions
Packaging
500 ml, 5 ℓ kits
Fire resistance
Flammable
Properties During Application
Application
For injection
As a primer
By gun
By brush or roller
Pot-life @ 25 °C
5 hours – 500 ml
Volume solids
100%
Curing time @ 25 °C
Practical cure: 24 hours
Full cure: 7 days
Coverage
Variable – 1 ℓ covers 1 m² to a thickness of 1 mm
Application temperature range
10 °C to 45 °C
Equipment clean-up
Uncured material is toxic
Equipment clean-up
abe® super brush cleaner
Fire resistance
Flammable
Properties of Dry Film
Maximum service temperature
Dry: 60 °C
Wet: 40 °C
Bond strength
Concrete will fail in tensile and shear
Compressive strength
60 MPa
Toxicity
Cured material is non-toxic
Colour
Brown
Application
Full details are contained in the 'Crack Injection Data Sheet'.
Note: epidermix® 389 is recommended for use in cracks from 0.10 to 0.05 mm. For wider cracks, see epidermix® 365.
Protection on Completion
Ensure no liquid spillage and no movement vibration until cured.
Temperature & Relative Humidity
See "Properties of wet material" and "Properties during application".
Model Specification
Low-viscosity epoxy crack injection compound and primer for epoxy mortars.
The crack injection compound shall be epidermix® 389, a two component, low viscosity, solvent free epoxy compound applied in accordance with the manufacturers recommendations, epidermix® 389 is supplied in 500 ml and 5 ℓ metal containers.
Handling & Storage
This product has a shelf life of 24 months if kept in a dry cool place in the original packaging.
In more extreme conditions this period might be shortened.
Health & Safety
Wet epidermix® 389 is toxic and flammable. Always ventilate the working area well during application and drying. Avoid flames in vicinity. Always wear gloves and eye protection when working with the material and avoid excessive inhalation and skin contact. If material is splashed in the eye, wash with copious quantities of clean water and seek medical attention.
Cured epidermix® 389 is inert and harmless.
When transporting by aircraft, ask for a material safety data sheet.
Important Note
This data sheet is issued as a guide to the use of the product(s) concerned. Whilst a.b.e.® endeavours to ensure that any advice, recommendation, specification or information is accurate and correct, the company cannot accept any liability for application – because a.b.e.® has no direct or continuous control over where and how a.b.e.® products are applied.
Further Information
Where other products are to be used in conjunction with this material, the relevant technical data sheets should be consulted to determine total requirements.
a.b.e.® has a wealth of technical and practical experience built up over the years in the company's pursuit of excellence in building and construction technology.