Superior construction sealant and adhesive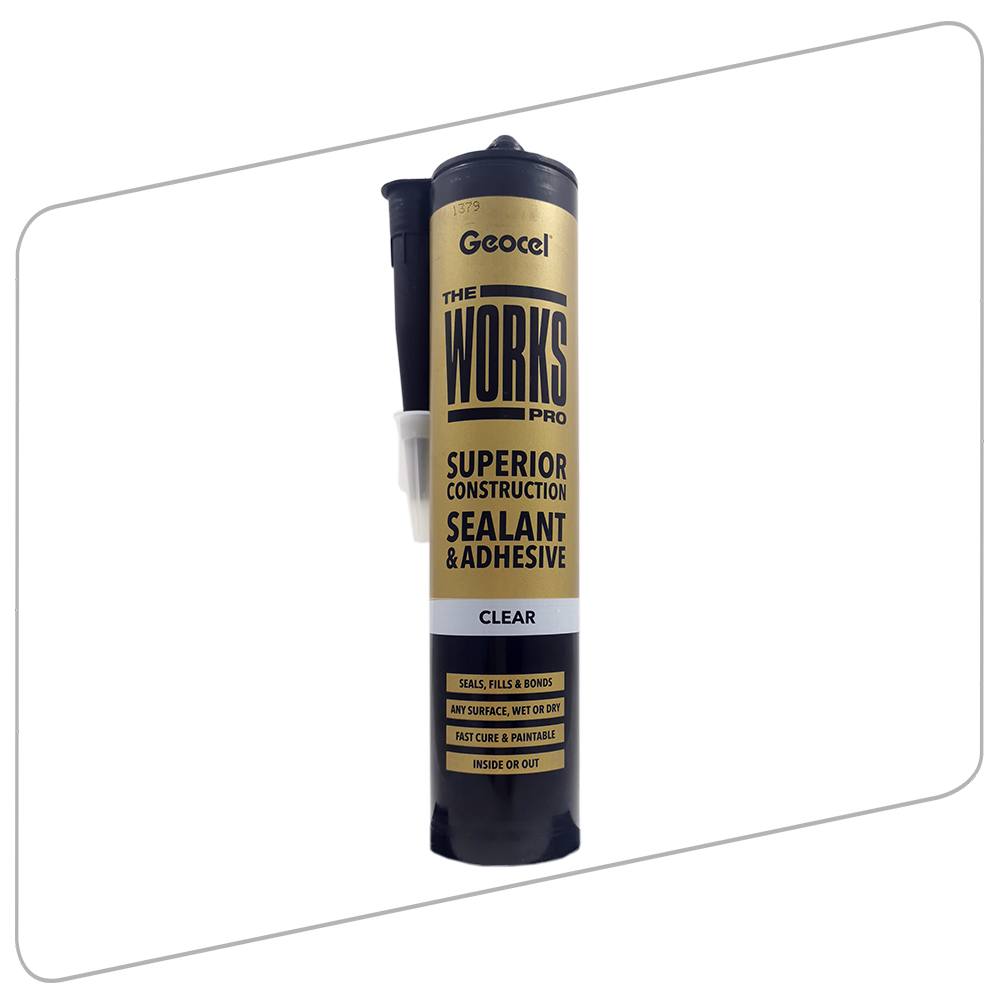 With the WORKS PRO unique MS POLYMER sealant & adhesive you can manage all kinds of jobs impossible with traditional solvent or water-based adhesives.
Apply the WORKS PRO  in wet or dry conditions on virtually any substrate and get a secure fix and seal quickly and easily – there's no shrinkage, no staining, no solvents, and no need for additional fixings for most applications. It resists mould growth, is flexible and over paintable.

Uses
Wet surfaces (even under water)
Wood
Metal
Glass
Stone
Most Plastics
Polystyrene (will not attack synthetic material)
Concrete
Brick
Tiles
Roofing Material
Mirrors
Plaster
Plasterboard
Guttering
Pipes
Door and window frames
Cracks
Masonry joints
Colour
White;  Clear;  Black;  Grey
Advantages
• Quick cure
• Apply in wet or dry conditions
• Cures underwater
• Resists mould growth
• No staining
• No shrinkage
• Bonds & seals virtually any material
• Excellent UV resistance
• Will not attack synthetic material, unlike solvent based adhesive
• Excellent service temperature range can accommodate any weather conditions. When fully cured it will accommodate -40 -120 °C
• Environmentally friendly and user friendly – no solvents, non flammable and no odour means it can be used in confined spaces and areas open to the public.
Application
Ensure substrates, gaps and cracks are clean and free from dust, dirt, and grease.
Remove the nozzle and cut off the tip of the cartridge. Replace nozzle and cut the tip to the required width.
To secure: Apply The WORKS PRO  in dots or beads, once applied surfaces should be firmly pressed together.
To seal: Apply a continuous bead of The WORKS PRO ensuring it makes full contact with the sides of the joint.
Coverage
Depending on joint size, but should do approximately 7.8 m per 290 ml cartridge on a 6 mm x 6 mm joint.
Technical Specifcations
| | |
| --- | --- |
| Storage life | 12 months from the date of manufacture when stored in temperatures below 30 °C |
| Track free time | 20 minutes |
| Cure rate | Cure rate 3 mm per 24 hours at 23 °C and 50% relative humidity |
| Service temperature | -40 °C to 120 °C |
| Application temperature | 5 °C to 40 °C |
| MAF | 40% |
| Shore A | 45 |
| Viscosity | Paste |
| Solids content | 100% |
| Ageing resistance | Excellent |
| Damp tolerance | Excellent |
Painting
The WORKS PRO may be overpainted with water-based paints, however, due to a large number of coatings available, it is advisable to carry out a compatibility test before application. For alkyd paints, a water-based primer coat must be used.

| | |
| --- | --- |
| PAINT TYPE | SUITABILITY |
| Water based emulsion paint | Suitable |
| Water based primer sealer | Suitable |
| If over coating with other paints | Check suitability |
| Water based undercoat | Suitable |
| Water based topcoat | Suitable |
| Alkyd resin based paint | Use water based undercoat first |
| Traditional solvent-based undercoat | Use water based undercoat first |
| Traditional oil-based paint | Use water based undercoat first |
| Traditional exterior gloss paint | Use water based undercoat first |
| Cellulose-based automotive paint | Suitable |
| Cellulose-based automotive paint | Suitable |
Limitations
The WORKS PRO is not suitable for use on bituminous substrates or on materials that may bleed oils, plasticizers, or solvents.


Health & Safety
Product safety information required for safe use is not included. Before handling, read product and safety data sheets and container labels for safe use, physical and health hazard information. The safety data sheet is available from your local a.b.e.® branch.
Important Information
This data sheet is issued as a guide to the use of the product(s) concerned. Whilst a.b.e.® endeavours to ensure that any advice, recommendation, specification or information is accurate and correct, the company cannot accept any liability for application – because a.b.e.® has no direct or continuous control over where and how a.b.e.® products are applied.
Further Information
Where other products are to be used in conjunction with this material, the relevant technical data sheets should be consulted to determine total
requirements.
a.b.e.® has a wealth of technical and practical experience built up over the years in the company's pursuit of excellence in building and construction
technology.