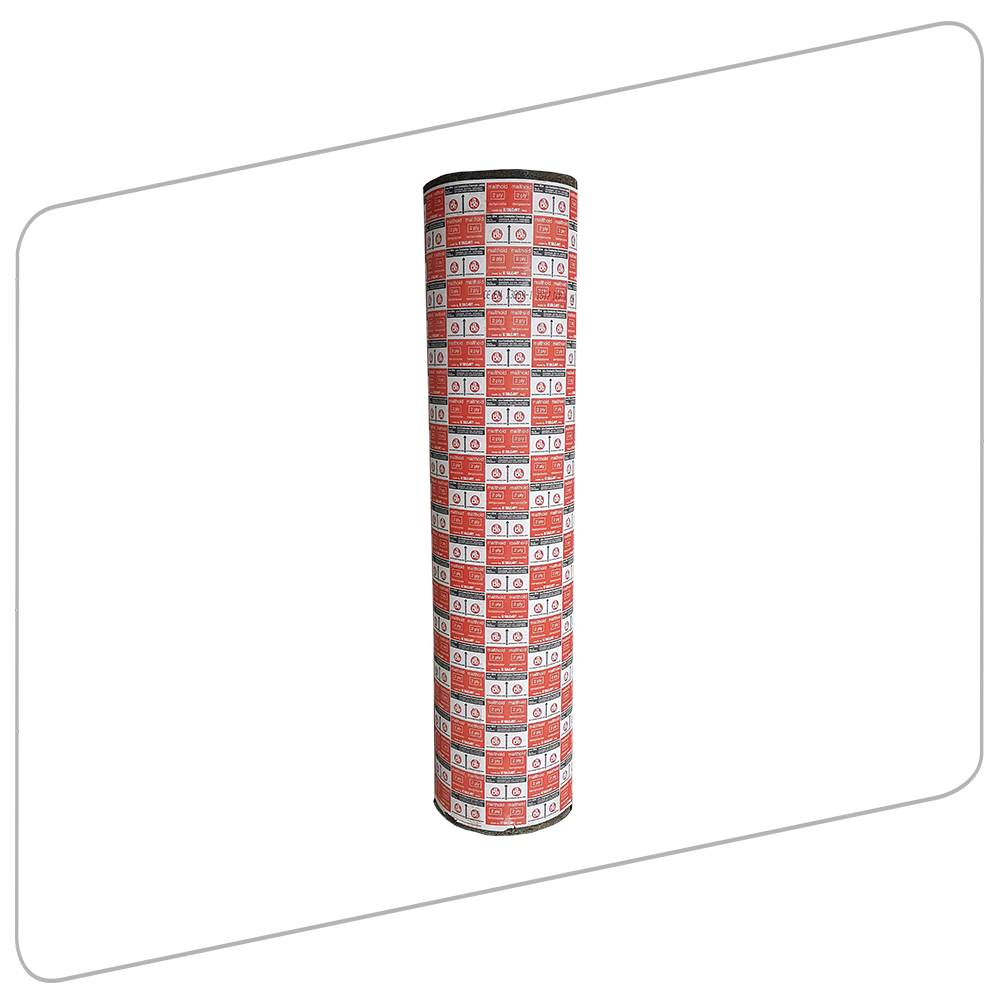 malthoid 2 ply is an asphaltic waterproofing membrane with a fibre felt carrier.
Damp-proof coursing in brickwork (DPC):
High resistance to puncture
Self healin
Easy to apply
Economic
Surface Preparation
Surfaces to be clean, dry, sound and free from sharp protrusions.
Bonding / Priming
No priming required when used as a DPC.
Coverage
Use product as per required width.
Application
Tear off paper wrapper and merely roll out product on surface. Use sharp knife to cut to required length.
Protection on Completion
In the event of the malthoid being exposed, coat with silvakote for protection against UV rays.
Temperature & Relative Humidity
Care must be taken when unrolling malthoid if the temperature is below 5°C.
Typical Physical Properties
Length of roll
20 m
Mass of roll  (900 mm wide)
32 kg
Cut sizes
112,5 mm
225 mm
300 mm
450 mm
Mass of 20 m roll
3,6 kg
7,2 kg
9,6 kg
14,4 kg
Mass/m2
1,78 kg/m2
Thickness (nominal)
1,7 mm
Pliability @ 25°C
No crack on 25 mm mandrel
Pliability @ 10°C
No crack on 75 mm mandrel
Surface finish
Fine washed sand
Heat test @ 80°C
No slump
Model Specification
Damp proof course in brick work (DPC). 
The DPC will be malthoid 2 ply, an asphaltic waterproofing membrane with a fibre felt carrier applied in accordance with the recommendations of a.b.e.® Construction Chemicals.
Packaging
malthoid 2 ply is supplied in various roll sizes:
20 m x 900 mm
20 m x 112,5 mm
20 m x 225 mm
20 m x 300 mm
20 m x 450 mm
Handling & Storage
This product has a shelf life of 24 months if kept in a dry cool place in the original packaging. In more extreme conditions this period might be shortened.
Caution
Not for exposed roof waterproofing.
Stack full rolls on end not more than two layers high.
Cut rolls not more than 1,8 m high.
Health & Safety
Refer to material safety data sheet for further information.
Important Note
This data sheet is issued as a guide to the use of the product(s) concerned. Whilst a.b.e.® endeavours to ensure that any advice, recommendation,
specification or information is accurate and correct, the company cannot accept any liability for application – because a.b.e.® has no direct or
continuous control over where and how a.b.e.® products are applied.
Further Information
Where other products are to be used in conjunction with this material, the relevant technical data sheets should be consulted to determine total requirements. 
a.b.e.® has a wealth of technical and practical experience built up over years in the company's pursuit of excellence in building and construction technology.