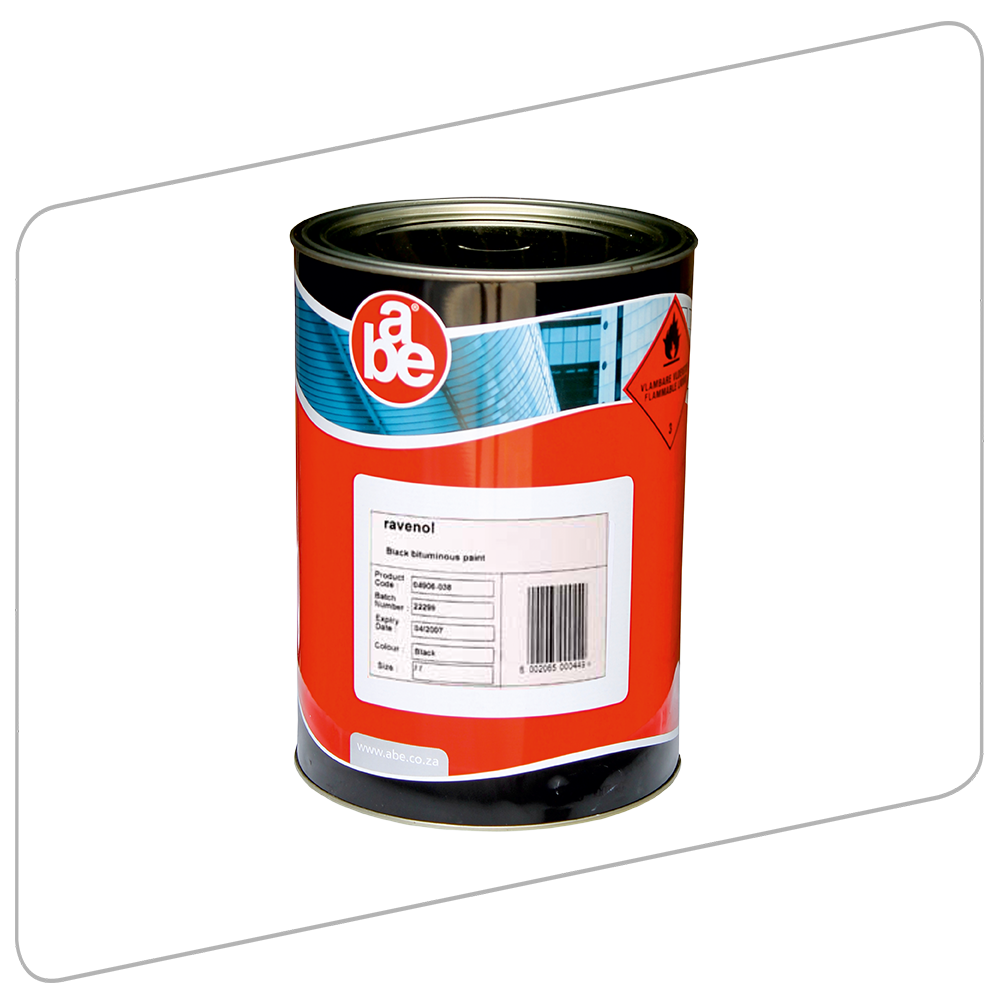 ravenol is a solvent-borne bituminous based coating.
Uses:
Protective coating for metallic and cementitious surfaces
Suitable for drinking water tanks and piping
Protective coating for vehicle chassis
Advantages
Economical
Provides protection
Easy to apply
Surface Preparation
Any surface to which ravenol is to be applied must be clean, mechanically sound and dry. Surfaces should be free of oil, grease, loose material and old paint.gs.
Mixing
Stir well before use. For spray application through conventional equipment, some 10 – 15% by volume dilution with white spirits or turpentine substitute will be needed. If used in a dipping bath, the viscosity should be reduced to some 20 sec BSB4.
Coverage
Practical coverage for estimating purposes: 8 m2/L depending upon surface texture and porosity. Where ravenol is applied to concrete 5°C to 40°C or other cementitious surfaces, the coverage will depend upon the porosity of the surface but will probably average about 4 m2/L.
Typical Physical Properties of Wet Material
| | |
| --- | --- |
| Density (typical) | 0,92 g/cm3 |
| Colour | Black |
| Finish | Initially glossy Dulls on weathering |
| Flash point | 38°C |
| Dilution | White spirits or turps substitute |
| Consistency | Medium viscosity liquid |
| Toxicity | Solvents are toxic |
Typical Physical Properties
Volume solids (typical)
50%
Fire resistance of wet film
Flammable
Typical (brushed) dft/coat on steel
50 μm
Theoretical coverage for above dft
10m2/L on smooth surface
Wet film thickness at above
100 μm
Recommended no. of coats
2 coats minimum
Drying time @ 25 °C

Touch dry: 1 hour

Hard dry: 24 hours

Overcoating time @ 25 °C
Minimum 2 hours
Typical Physical Properties of Dry Film
Maximum service temp

Dry Immersion

60 ºC 60 ºC
Weather resistance
Chalks when exposed to sunlight
Distilled water resistance
Good
Water resistance
Good
Water tainting
Non tainting
Solvent resistance
Non resistant
Chemical resistance

Resists:

10% ammonium hydroxide,

40% sodium hydroxide,

10% hydrochloric acid,

10% sulphuric acid and

domestic bleach
Application
Application by brush, spray or dip. ravenol may be applied directly from the can. If used in a dipping bath, the bath should be as narrow as possible to present minimum surface area to the atmosphere and thus reduce volatile loss.
ravenol has limited corrosion inhibitive properties when applied to iron or steel.
Note: Minimum requirements for airless application – 23:1 airless pump such as the Graco Monarch with 5-6 bar inlet air pressure.
Cleaning
Tools, brushes and mixing equipment should be cleaned immediately after use and before material has set with abe® super brush cleaner followed by washing with soap and water.
Temperature & Relative Humidity
Application temperature range: 5°C to 40°C 
Model Specification
Bituminous coating for steel. 
The coating will be ravenol, a one component, solvent-based, coating applied in accordance with the recommendations of a.b.e.® Construction Chemicals. The coating will have a density of 0,92 g/cm3.
Packaging
1L, 5L and 25L containers.
Handling & Storage
This product has a shelf life of 24 months from date of manufacture if kept in a dry cool place in the original packaging and under cover. In more extreme conditions this period might be shortened.
Health & Safety
Fire resistance of wet material: Flammable. 
Toxicity: Solvents are toxic. 
Ventilate working area well during application and drying. Avoid flames in vicinity. Always wear gloves when working with the material and avoid excessive inhalation and skin contact. If material is splashed in the eye, wash with plenty of clean water and seek medical attention. 
Cured ravenol is inert and harmless. 
Important Notice
This data sheet is issued as a guide to the use of the product(s) concerned. Whilst a.b.e.® endeavours to ensure that any advice, recommendation, specification or information is accurate and correct, the company cannot accept any liability for application – because a.b.e.® has no direct or continuous control over where and how a.b.e.® products are applied.
Further Information
Where other products are to be used in conjunction with this material, the relevant technical data sheets should be consulted to determine total
requirements.
a.b.e.® has a wealth of technical and practical experience built up over the years in the company's pursuit of excellence in building and construction
technology.