High performance solar reflective elastomeric coating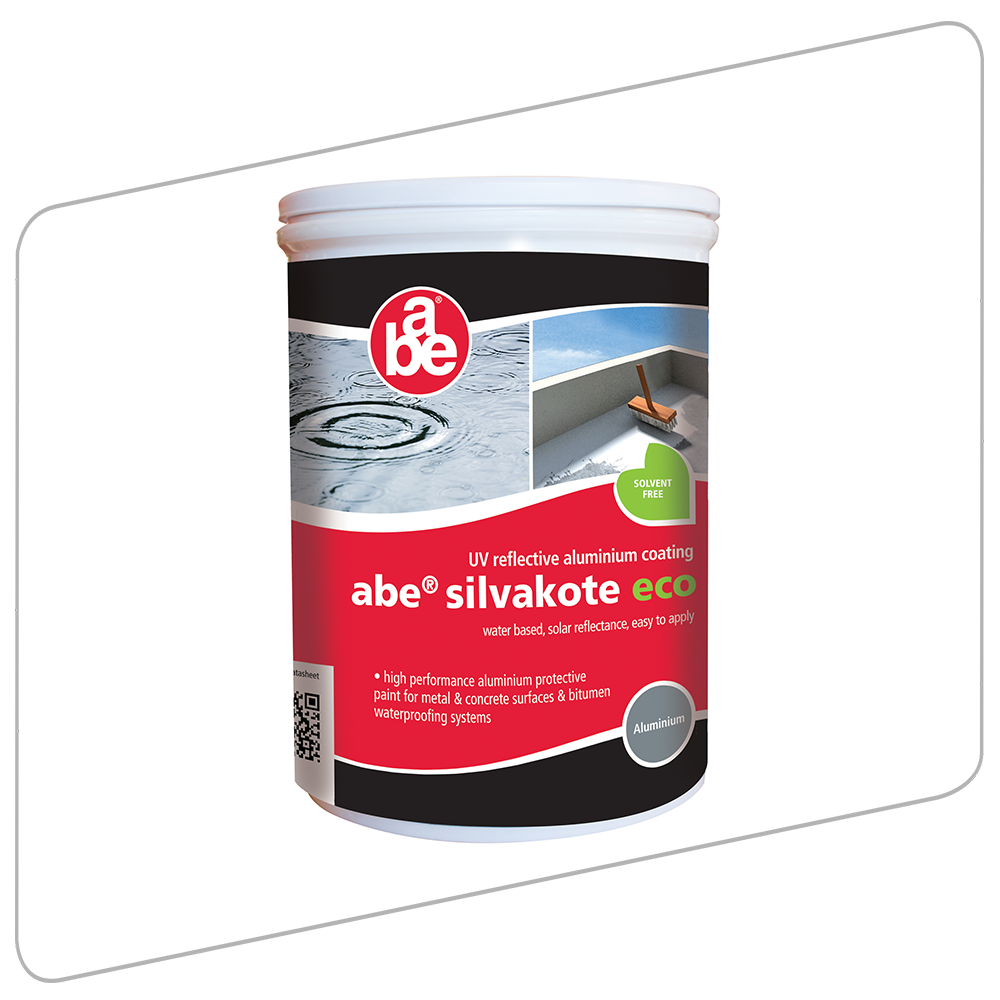 silvakote® eco is a liquid applied, high performance, highly elastomeric, solar reflective finishing coat modified with synthetic polymers. silvakote® eco is both bitumen and solvent free. Being water based, silvakote® eco is environmentally and applicator friendly, and is designed to act as a green replacement for traditional solvated bitumen based aluminium paints.
Uses
Exposed concrete and metal roofs
Bitumen felt reflective top coat (new build)
Bitumen felt top coat (refurbishment)
Polymer modified bitumen waterproofing membrane reflective top coat
Liquid applied bitumen systems reflective top coat
Advantages
Brilliant aluminium finish every time, with no streaking
Excellent solar reflectance, protecting both liquid and felt systems
Eliminates "cracking or crazing" problems associated with traditional solvated aluminium paints, as the product is elastomeric
Non-hazardous for transport and storage
Non-flammable, eliminates site health & safety issues
Solvent free – no bleed through from previous coating systems
Good resistance to light foot traffic
Minimal mixing required prior to application
Bitumen free – no chance of "bronzing" due to low aluminium flake
Typical Physical Properties
| | |
| --- | --- |
| Appearance | Bright Aluminium Liquid |
| Specific Gravity | 0.98 |
| Flash Point | Not applicable |
| TSR | >50% |
| Resistance to UV | Excellent |
| Application Temp | +5 °C to +55 °C |
| Drying Time | Touch Dry – approx. 30 minutes @ 20 °C Full Cure – approx. 2 hours @ 20 °C |
| Coverage Rate | 8 m² to 10 m² per litre per coat depending on substrate porosity, minimum 2 coats |
Conditioning of New Bituminous Surfaces
Newly applied polymer modified bitumen membranes or bituminous coatings – either hot or cold applied – should not be treated with reflective or protective liquid coatings until at least two months after application. In particular, newly applied polymer modified bituminous membranes acquire superficial "efflorescence of hydrocarbons" which prevents optimum adhesion of coatings. The ageing period will depend on seasonal conditions and on the heat of the sun which encourages drying out and superficial oxidisation of the polymer bitumen and the elimination of the Hydrocarbon substances that prevents adhesion of coatings. If in doubt about the condition of the bitumen surface, it will be necessary to test the adhesion of silvakote® eco.
Preparation of Old Bituminous Surfaces
Particular care must be taken to prepare old bituminous coatings. Any superficial bubbles should be cut and then resealed having first made certain that all traces of moisture and dampness have been removed.
Priming & General Surface Preparation
Any surface to be coated should be clean and mechanically sound.
Conditioned Bitumen Surfaces
Ageing of the bitumen yields considerable quantity of water soluble dust derived from the oxidization process of the bitumen surface. This water soluble dust must be washed off the immediate surface by scrubbing and using copious quantity of clean water. No priming is required.
Other Typically Coated Surfaces
Fungus contaminated porous surfaces are particularly common in areas of high humidity; coating over fungus will always give rise to problems. The following pre-treatment will usually prove successful:
Scrub the surfaces with detergent and water (high pressure washing is recommended)
Flush the surface thoroughly to remove all detergent and residues
Wash the surface with a proprietary hypochlorite bleach to remove all fungal stains
Wash with a fungicidal solution such as a 10% solution of Detol or equivalent to minimise re-infection
Allow the surface to dry
Apply the primer coat
For further information on Surface Preparation, see data sheet "Preparation of Surfaces" When preparing and cleaning on fiber cement sheets refer to Everite Building Products and Asbestos Regulation (2001). Concrete, Cement roofing tiles and fi ber cement sheeting should be free from dust, laitance and any loose or friable existing coatings. These surfaces should be primed with a coat of duraproof acrylic primer thinned 1:1 with clean water. Alternatively on fiber cement sheets, duracoat WB Primer can be used as a primer.
Galvanised iron sheeting should be free of dust and any fl aking existing coating and be corrosion free. Previously uncoated galvanized sheeting should be free of any traces of passivation (corrosion resistant treatment). If present this should be completely removed by means of an abrasive pad or propriety abrasive cleaner to a water break-free surface indicating thorough cleaning. Galvanized metal should be primed with 4 metal primer.
Application
silvakote® eco is applied by brush, roller, or airless spray, and adheres well to all common building substrates such as concrete, steel, bitumen felt, most plastics, polystyrene, and polyurethane foams. Do not apply silvakote® eco if rain, fog or temperatures under 5 ºC are expected. These conditions should be ensured for at least 6 hours after application of the product. Film Thickness: Where relevant, at least one wet film thickness measurement shall be taken for every 5 m installed. Consumption: Daily completed areas should be measured against quantities of materials used, to ensure correct coverage. 
Limitations
silvakote® eco is not for use in ponded areas. Provide proper falls in concrete: The finished roof should have a slope of at least one in 80. This is in order to prevent prolonged water stagnation over the silvakote® eco film.
Storage
Store in a cool dry area; cans must always be stored at 5 ºC or above to ensure product is suitable for use when opened. Cans must be kept closed and the product must not be allowed to freeze.
Shelf life
12 months when stored as recommended.
Model Specification
A bitumen and solvent free aluminium paint for metallic, concrete and waterproofed surfaces. The aluminium paint will be silvakote® eco, a one component, aluminium reflective coating applied in accordance with the recommendations of a.b.e.® Construction Chemicals.
Health & Safety
Product safety information required for safe use is not included. Before handling, read product and safety data sheets and container labels for safe use, physical and health hazard information. The safety data sheet is available from your local a.b.e.® Construction Chemicals branch.
Important Note
This data sheet is issued as a guide to the use of the product(s) concerned. Whilst a.b.e.® endeavours to ensure that any advice, recommendation, specification or information is accurate and correct, the company cannot accept any liability for application – because a.b.e.® has no direct or continuous control over where and how a.b.e.® products are applied.
Further Information
Where other products are to be used in conjunction with this material, the relevant technical data sheets should be consulted to determine total requirements. a.b.e.® has a wealth of technical and practical experience built up over the years in the company's pursuit of excellence in building and construction technology. Please consult our website for our latest datasheets.