Reflective waterproofing membrane under slate roofs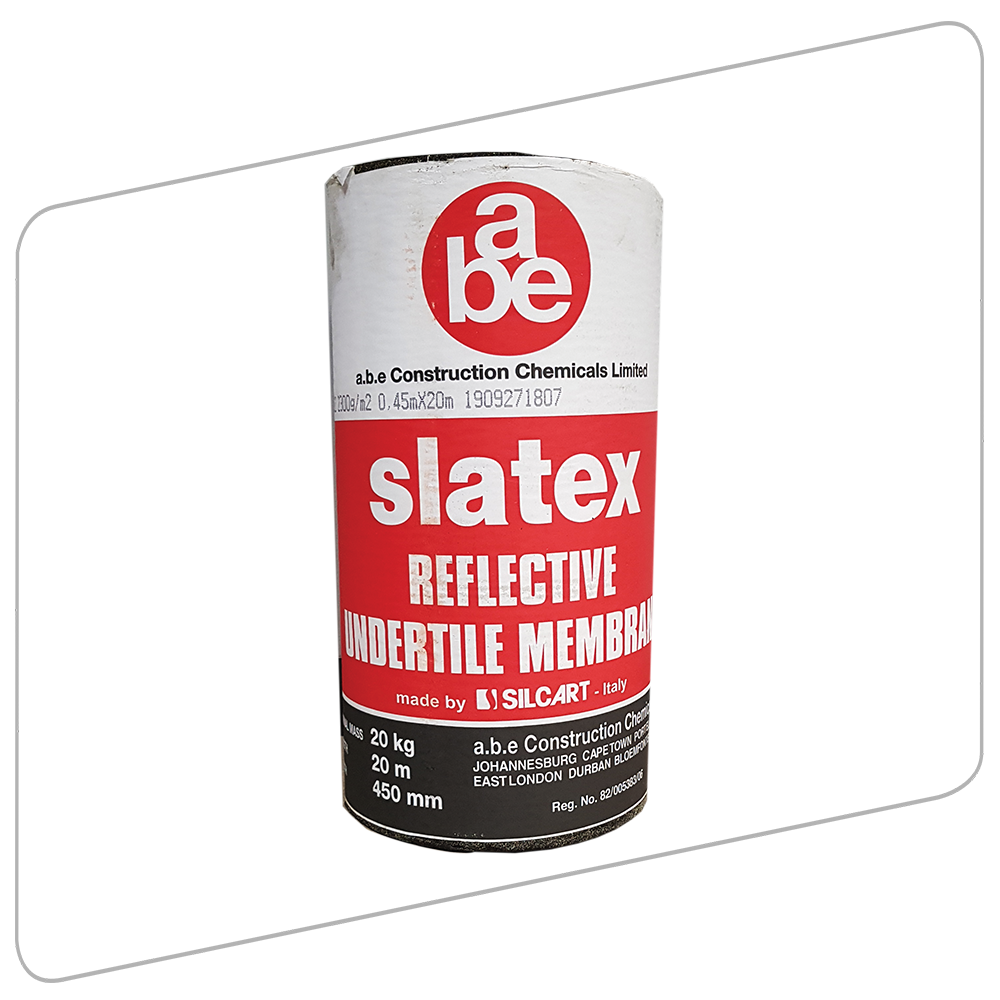 slatex® 2000 is a bituminised roofing felt, faced over half its width with a heat-laminated layer of aluminium foil.
Uses:
Waterproofing layer laid under slate roofing tiles.
Advantages:
Long lasting
Prevent ingress of dust
Waterproofs
Application
Starting at the lowest point of the slope, roll slatex® 2000 out across the roof parallel to the eaves. The aluminium foil strip must face upward on the lower half of the slatex®. The slatex® 2000 is then nailed, with large headed copper clout nails, through the unprotected felt, onto a batten. In aggressive coastal environments it is safer to use Muntz metal (63 copper, 36 zinc, 1 tin) clout nails if available. After slating over the aluminium area the next strip of slatex® 2000 is applied in similar fashion so that the aluminium foil coated area of the second sheet overlaps the uncoated strip of the first sheet.
Work proceeds up the slope of the roof until the entire area has been slated. End laps in the felt must be overlapped by a minimum of 150mm.
Typical Physical Properties
Checked Characteristics
Unit
Norm ref.
Value
Length of roll
m
20

 

metres

 

(- 50 mm, + 10 mm)
Width of roll

mm

450 mm ( – 3 mm, + 3 mm)
Width of

 

aluminium

 

facing

mm

225 mm
Raw felt area weight

g

/m2

Uni

 

8202 p

.

7
300
Distillate bitumen area weight

g

/m2
250
Filled oxidized bitumen area weight

g

/m2
970
Sand area weight

g

/m2
770
Mass per unit area

kg

/m2
2,3 kg/m2
Mass of full roll

kg

20,5 kg (average)
Thickness of

 

bituminious

 

sheet
(

nominal

)

mm

2,2mm
Thickness of

 

aluminium

 

(nominal)

micron

50 µm
Cold Flex (Pliability

)

°C
°C

Uni


8202

.

p

.

15
0°C, 4h Mand 20mm dia, 5 sec
Heat Stability
°C

Uni

 

8202


p

.

18
90°C, 2h

 

in vent

.

 

device


90°C, 24h

 

in vent

.

 

device

Tensile Strength
N/2.5 cm
SABS
L: 250 T: 130
Elongation
%
SABS
L: 1,5 T: 3,5
Tear Strength
N
SABS 92-
1981 p.7.11
L: 36 T: 24
Protection on Completion
Apply slate tiles, which will act as the final finish.
Temperature & Relative Humidity
Care must be taken when unrolling slatex® 2000 if the temperature is below 5°C.
Model Specification
Aluminium foil laminated slaters underlay.
The slating underlay will be slatex® 2000, an asphaltic waterproofing membrane with a fibre felt carrier incorporating a heat-laminated reflective aluminium facing over half its width, applied in accordance with the recommendations of a.b.e.®
Packaging
slatex® 2000 is supplied in rolls of 20 m x 450 mm.
Handling & Storage
This product has a shelf life of 24 months if kept in a dry cool place in the original packaging. In more extreme conditions this period might be shortened.
Health & Safety
Refer to material safety data sheet for further information.
Caution
Rolls should be stacked upright, no more than three high.
Important Note
This data sheet is issued as a guide to the use of the product(s) concerned. Whilst a.b.e.® endeavours to ensure that any advice, recommendation,
specification or information is accurate and correct, the company cannot accept any liability for application – because a.b.e.® has no direct or
continuous control over where and how a.b.e.® products are applied.
Further Information
Where other products are to be used in conjunction with this material, the relevant technical data sheets should be consulted to determine total requirements. 
a.b.e.® has a wealth of technical and practical experience built up over years in the company's pursuit of excellence in building and construction technology.