A peel and stick waterproofing tape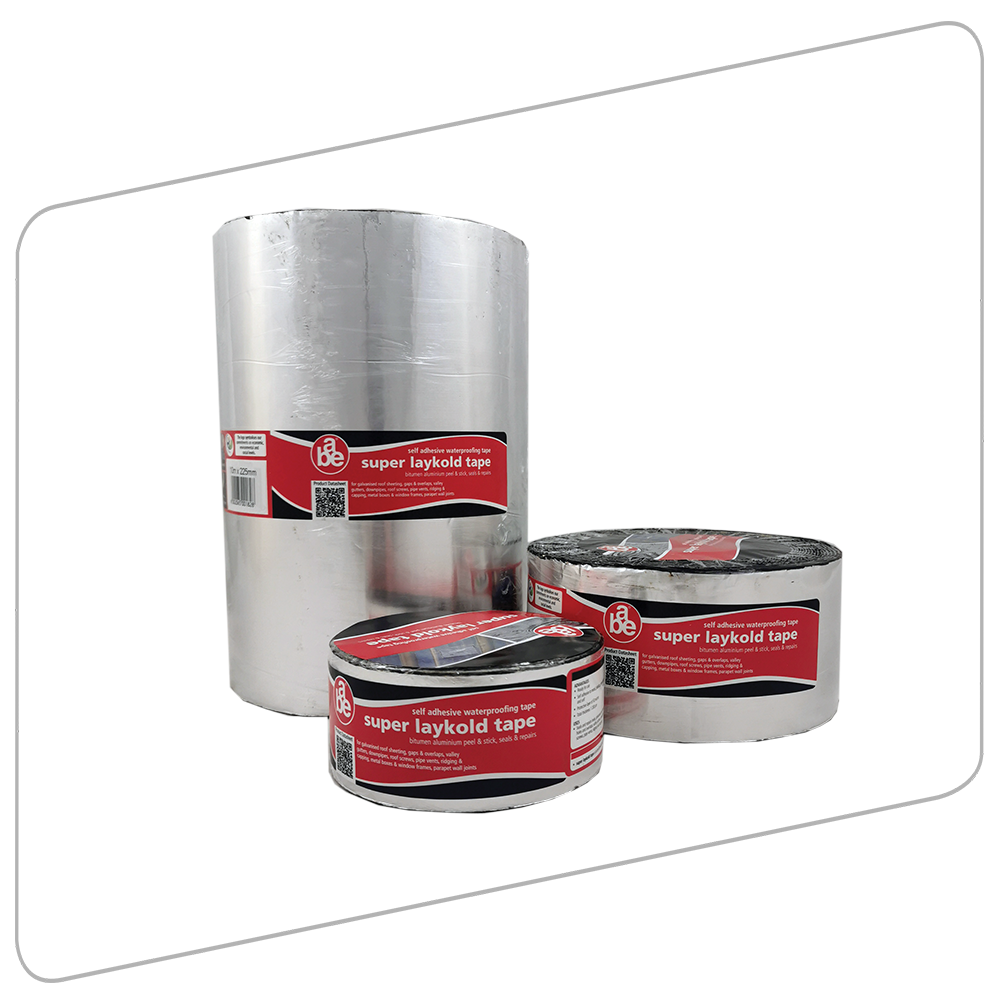 super laykold® waterproofing tape is a bitumen aluminium self-adhesive waterproofing tape.
Uses:
Seals and repairs leaky, galvanised roof sheeting, holes and overlaps, valley gutters, downpipes, roof screws, pipe vents, ridging and capping.
Advantages
Peel and stick
Easy to use
Self adhesive
Surface Preparation
Surface to be covered must be clean, sound, dry and free of any grease, oils and loose materials. Allow material to warm in sun before application.
Mixing
super laykold® waterproofing tape is supplied in rolls ready for use.
Coverage
super laykold® waterproofing tape is supplied in roll form in various sizes. Use size as required.
Application
Cut to size before removing plastic rapping and apply super laykold® waterproofing tape to the required area.
Sealing: overlaps needs to be a minimum of 50 mm as flashing between a wall and a corrugated roof, gaps must be filled with bituseal® plastic or cement.
Typical Physical Properties
| | |
| --- | --- |
| Resistance to weathering | Excellent |
| Surface finish | Aluminium |
| Thickness of aluminum | 50 µm |
| Thickness of adhesive | 1750 µm |
| Total thickness | 1800 µm |
| Adhesion to metal, plastics, primed concrete and self: | 2,0 N/mm min |
Cleaning
Tools, brushes and mixing equipment should be cleaned immediately after use and before material has set with abe® super brush cleaner followed by washing with soap and water.
Protection on Completion
super laykold® waterproofing tape is to be left with the aluminium protective layer as is after application.
Temperature & Relative Humidity
Application temperature range: 5ºC to 40ºC
super laykold® waterproofing tape must not be applied in freezing, wet or foggy conditions.
Model Specification
Self-adhesive sealing tape for repairs to galvanised and fibre cement roofs.
The waterproofing tape will be super laykold® waterproofing tape, a self-adhesive, bituminous compound with a laminated aluminium reflective facing applied in accordance with the recommendations of a.b.e.® 
Packaging
super laykold® waterproofing tape is supplied in rolls of varying sizes:
2,5 m x 50 mm
2,5 m x 100 mm
2,5 m x 150 mm
5 m x 100 mm
5 m x 150 mm
10 m x 75 mm
10 m x 100 mm
Handling & Storage
This product has a shelf life of 24 months if kept in a dry cool place in the original packaging. In more extreme conditions this period might be shortened.
Health & Safety
The use of gloves and eye protection is advised. Always ventilate the working area well during application and drying. Avoid flames in vicinity. If material is splashed into the eye wash with plenty of clean water and seek medical attention.
Cured super laykold® waterproofing tape is inert and harmless.
Important Note
This data sheet is issued as a guide to the use of the product(s) concerned. Whilst a.b.e.®  endeavours to ensure that any advice, recommendation,
specification or information is accurate and correct, the company cannot accept any liability for application – because a.b.e.®  has no direct or
continuous control over where and how a.b.e.®  products are applied.
Further Information
Where other products are to be used in conjunction with this material, the relevant technical data sheets should be consulted to determine total
requirements.
a.b.e.® has a wealth of technical and practical experience built up over the years in the company's pursuit of excellence in building and construction
technology.