Non-sag silicone joint sealant for Portland cement concrete pavement joints.
Features & Benefits
Can be extruded from -20 to 120°F.
May be used in joints that are not uniform in width.
Movement capability 100% extension and 50% compression.
Low modulus.
Weather and UV resistant.
Fuel resistant-short term exposure. Refer to Dow Corning form number 62-207 for more information.
One component, cold applied, ready-to-use as supplied; dispensed directly from the bulk container into the joint by hand or with an air-powered pump.
Unprimed adhesion – primer is not required for bonding to Portland cement concrete. For optimum adhesion, the surface must be clean, dry and frost-free.
Cure time – typically, the sealant will have a skin-over time of one hour or less at standard conditions.
Composition
One-part, cold applied, non-sag silicone sealant.
Applications
DowSil™

888

 

Silicone Joint Sealant can be used for concrete to concrete pavement joints.
For use in new construction, repair or remedial applications.

DowSil™

 

888

 

Silicone Joint Sealant may be used to seal joints that are not uniform in width provided the movement capability of the sealant is not exceeded. May also be used in joints with minor spalling.
Typical Properties
Specification Writers: These values are not intended for use in preparing specifications. Please contact your local DowSil™ sales office or your Global DowSil™ Connection before writing specifications on this product.
*See datasheet
Figure 1: Good Joint Design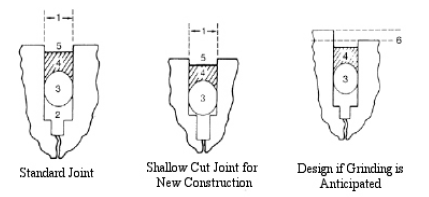 Joint width wide enough to accommodate movement. (For additional information on joint width, see papers by Spells and Klosowski, "Silicone Sealants for Use in Concrete Construction," Vol. 1, No. 1, American Concrete Institute, SP-70, 1981; J.B. Cook, "Construction Sealants and Adhesives," Wiley-Interscience, 1970; and J.M. Klosowski, "Sealants in Construction," Marcel Dekker, 1989.).
Joint sawed deep enough to allow backer rod/sealant placement and space for pumping of old sealant compounds. NOTE: This applies to standard joints only; void space beneath backer rod in new construction is not needed.
Proper backer rod placement to prevent three-sided adhesion.
Sealant installed to proper depth and width.
Sealant recessed a minimum of 3/8 inch to 1/2 inch (9.53 mm to 12.7 mm) below pavement surface.
Depth of lowest slab determines the amount of recess required if grinding is anticipated; once grinding is complete, the sealant will have proper recess below the pavement surface.
Description
DowSil™ 888 Silicone Joint Sealant is a one-part, non-sag silicone material that cures to a low-modulus silicone rubber upon exposure to atmospheric moisture. Can be applied over a wide temperature range.
Applicable Standards
ASTM D 5893 Type NS
FAA P-605 for silicone joint sealants
Meets SS-S-200E (section 4.4.12). Flame Test Requirements
EN 14187-5 Hydrolysis Test
How to use
Please refer to the DowSil™ Silicone Pavement Sealants Installation Guide, form number 61-507.
Handling Precautions
Product safety information required for safe use is not included in this document. Before handling, read product and material safety data sheets and container labels for safe use, physical and health hazard information. The material safety data sheet is available on the dow corning website at dowcorning.com, or from your dow corning sales application engineer, or distributor, or by calling dow corning customer service.
Usable Life and Storage
Keep stored in original, unopened containers at or below 32°C (90°F). Refer to product packaging for "Use By" date. Keep containers tightly closed.
Packaging Information
DowSil™ 888 Silicone Joint Sealant is supplied in 29-fl oz (857-mL) dispos-able plastic cartridges, 4.5-gal (17-L) bulk pails, and 50-gal (189-L) bulk drums.
Limitations
DowSil™ 888 Silicone Joint Sealant is not recommended for continuous water immersion. It should not be applied in totally confined spaces where the sealant is not exposed to atmospheric moisture.
Not intended for use with asphalt.
The sealant should never be applied to wet or damp asphalt or concrete pavements or installed during inclement weather.
DowSil™ does not promote or warrant the use of DowSil™ brand sealants in applications associated with spill containment areas of any kind.
This product is neither tested nor represented as suitable for medical or pharmaceutical uses.
Health & Environmental Information
To support customers in their product safety needs, DowSil™ has an extensive Product Stewardship organization and a team of Product Safety and Regulatory Compliance (PS&RC) specialists available in each area.
For further information, please see our website, consumer.dow.com or consult your local DowSil™ representative.
Limited Warranty Information – Please read carefully
The information contained herein is offered in good faith and is believed to be accurate. However, because conditions and methods of use of our products are beyond our control, this information should not be used in substitution for customer's tests to ensure that our products are safe, effective, and fully satisfactory for the intended end use. Suggestions of use shall not be taken as inducements to infringe any patent. DowSil™'s sole warranty is that our products will meet the sales specifications in effect at the time of shipment.
Your exclusive remedy for breach of such warranty is limited to refund of purchase price or replacement of any product shown to be other than as warranted.
TO THE FULLEST EXTENT PERMITTED BY APPLICABLE LAW, DOW CORNING SPECIFICALLY DISCLAIMS ANY OTHER EXPRESS OR IMPLIED WARRANTY OF FITNESS FOR A PARTICULAR PURPOSE OR MERCHANTABILITY. DowSil™ DISCLAIMS LIABILITY FOR ANY INCIDENTAL OR CONSEQUENTIAL DAMAGES.
We help you invent the future.™
Table: Recommended Backer Rod Installation (Shallow Cut)1
1On road surfaces where grinding is planned at a later date, the sealant and backer rod should be installed so that sealant is approximately 3/8 inch (9.35 mm) below the road surface after grinding is complete. An additional small amount should be added to allow for surface imperfections on the bottom and to provide room for old sealant to pump up from below during rehabilitation work in the summer months.