Bitumen based aluminium paint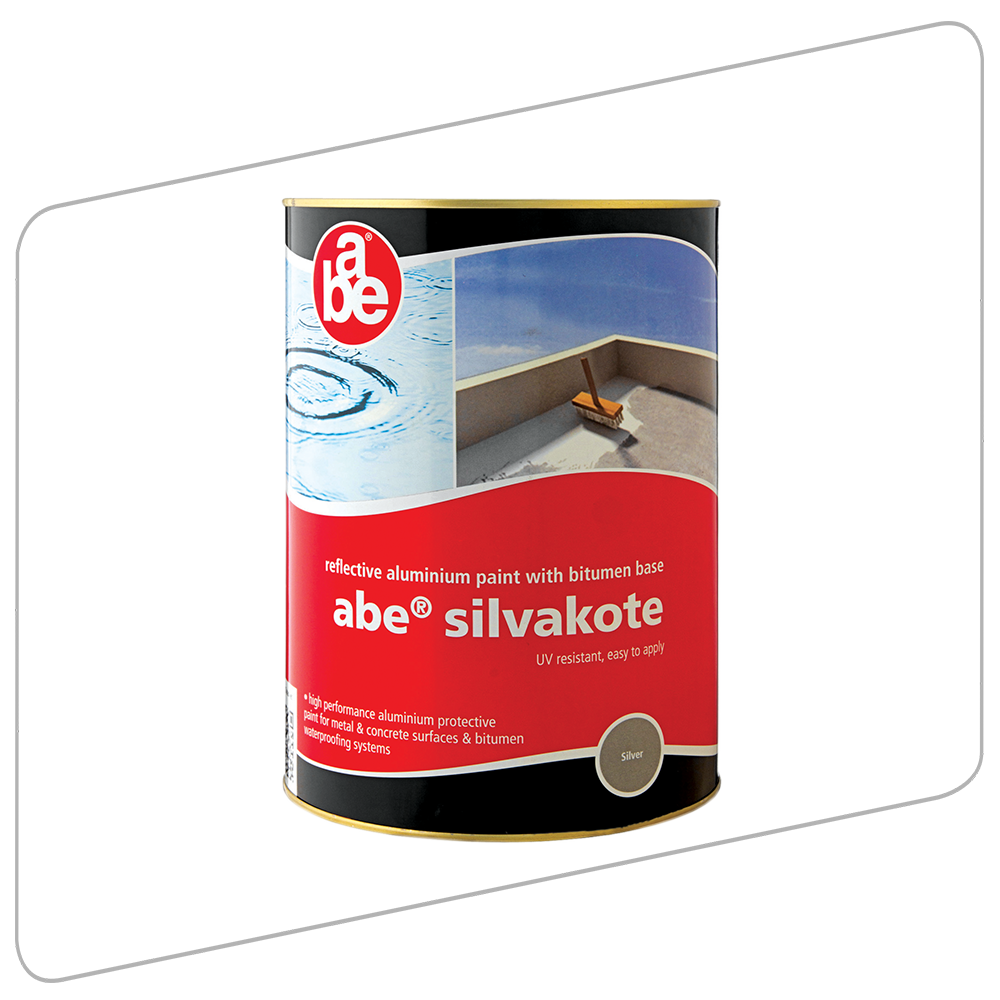 silvakote® is a one-pack, aluminium pigmented bitumen solution.
A general purpose reflective aluminium paint for metallic, most bituminous and concrete surfaces.
UV resistant
Highly reflective
Easy to apply
Surface Preparation
Any surfaces to be coated with silvakote® should be clean, mechanically sound and dry.
Steel – should be free of rust and loose material as well as oil, grease and loose paint.
Galvanised steel – should be free of loose paint, grease and in the case of new material, free of anti-white rust treatment.
Bituminous surfaces and sheet waterproofing membranes – should be free of dust, chalking and any other loose material. New bituminous surfaces should weather for 8 weeks before coating.
Bonding / Priming
silvakote® is normally applied directly to the surface but the following priming systems may be used where conditions so dictate.
Steel – etch primer.
Galvanised steel – no priming needed.
Bituminous surfaces – no priming needed except on 'hungry' sheet waterproofing membranes where a coat of bituprime may be applied.
Mixing
As the aluminium pigment settles very easily silvakote® must be stirred well before use, using a flat paddle. All settled material must be thoroughly dispersed. Keep silvakote® well stirred during use.
Typical Physical Properties of Wet Material
Density (typical)
0,985 g/cm3
Colour
Bright aluminium
Flash point
38 °C
Dilution
Not recommended
Consistency
Low viscous liquid
Drying time @ 25 °C
Touch dry: 1 hour
Hard dry: 2 hours
Typical Physical Properties During Application
| | |
| --- | --- |
| Volume solids | 33% |
| Overcoating time @ 25 °C | Minimum: 2 hours |
| Fire resistance of wet film | Inflammable |
| Recommend no. of coats | Two |
Typical Physical Properties of Dry Film
| | |
| --- | --- |
| Max. service temp | Dry 70 °C |
| Weather resistance | Weathers well but dulls with age |
| Toxicity | Non-toxic |
| Water resistance | Not recommended for immersion conditions |
| Solvent resistance | Will not withstand solvent spillage due to attack on bitumen |
| Chemical resistance | Film (aluminium) attacked by both acids and alkalis |
Coverage
Steel and galvanised steel: 14 m2/1L @ 60 µm wft
Resulting dft: 20 µm
Bituminous surfaces: 6 – 8 m2/1L
Note: Due to the viscosity and aluminium pigments contained in silvakote this product exhibits both high spread and hiding characteristics. Low film build should, however, be avoided in the interests of longevity with due care during installation to apply the specified coating thickness.
Application
silvakote® may be applied by conventional spray or by brush or roller. On large applications it is often applied by soft broom or roofing mop. Coverage is very dependent on the porosity of the surface.
Cleaning of Equipment
Tools, brushes and mixing equipment should be cleaned immediately after use and before material has set with abe® super brush cleaner followed by washing with soap and water.
Protection on Completion
It may be necessary to apply a further coat of silvakote® after three years.
Temperature & Relative Humidity
Application temperature range: 
5 °C to 50 °C. Do not apply if surface is less than 2 °C above dew point.
Model Specification
Bituminous aluminium paint for metallic, concrete and waterproofed surfaces.
The aluminium paint will be silvakote®, a one-component, aluminium reflective coating applied in accordance with the recommendations of a.b.e.® including bituprime where necessary.
Packaging
1 L, 5 L, 25 L and 200 L containers.
Handling & Storage
This product has a shelf life of 12 months if kept in a dry cool place in the original packaging. In more extreme conditions this period might be shortened.
Health & Safety
Wet silvakote® is flammable and naked flames should not be allowed in the vicinity of the work area. Adequate ventilation must be provided when working in confined areas. Always wear gloves when working with the material and avoid excessive inhalation and skin contact. If material is splashed into the eye, wash with plenty of clean water and seek medical attention.
Cured silvakote® is inert and harmless.
Important Note
This data sheet is issued as a guide to the use of the product(s) concerned. Whilst  a.b.e.® endeavours to ensure that any advice, recommendation, specification or information is accurate and correct, the company cannot accept any liability for application – because  a.b.e.® has no direct or continuous control over where and how  a.b.e.® products are applied.
Further Information
Where other products are to be used in conjunction with this material, the relevant technical data sheets should be consulted to determine total requirements. a.b.e.® has a wealth of technical and practical experience built up over the years in the company's pursuit of excellence in building and construction technology.